I love the saying, "don't sweat the small stuff," which was coined by Richard Carlson, Ph.D., in his best selling 1996 book on how not to let the small things in life get the best of us.
However, as Bill Santamour at Hospitals & Health Networks pointed out this week, sweating the small stuff is essential to improve the patient experience. His story of a patient with special dietary needs who couldn't get food she could eat is a frustrating tale of ignorance and indifference.
The physical environment may be small stuff that many healthcare executives don't want to sweat about.  But a little extra attention to the small stuff in patient rooms can positively impact the patient/family experience during a hospital stay.
Here's a list of suggestions, taken from the "Evidence Based Design Patient-Centered Room Virtual Reality Environment" developed a few years ago by The Center for Health Design in association with HOK and Jain Malkin, Inc.:
1. Artwork in view of the patient
2. Wardrobe with optional safe
3. Plant/flower shelf
4. Family zone with sleeper sofa and a desk
5. Large, high definition TV monitor
6. Relaxation programming available on the TV
7. Comfortable seating for family and visitors
8. A window shade that can be controlled by the patient
9. Nightlight to illuminate the floor
10. Nice bathroom fixtures and detailing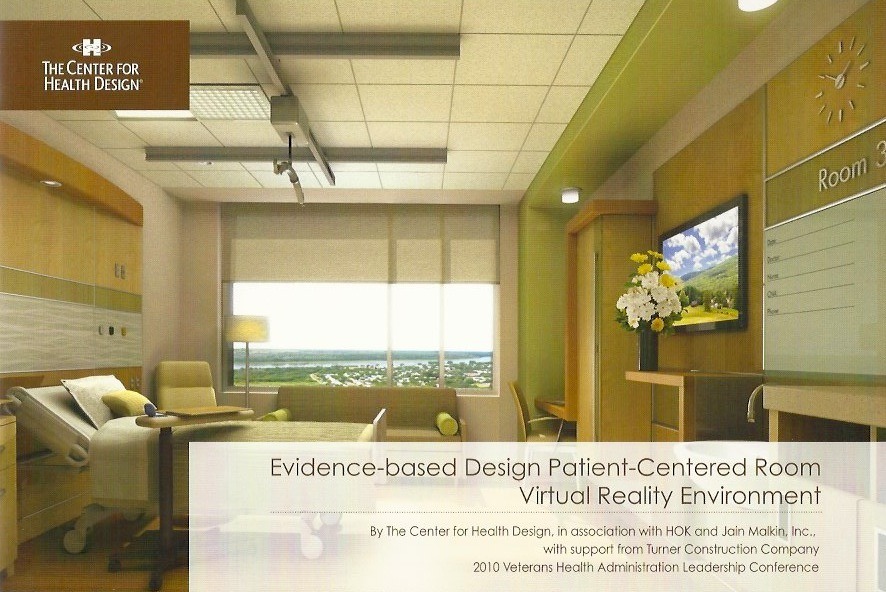 With support from Turner Construction, The Center produced a 16-page color brochure that beautifully illustrates these concepts and more.  There may still be print copies or a PDF version available.  Contact The Center for more information.
P.S.  Please do me a favor -- if you liked this post and like this blog, please share it with others by sending them the link or posting it on your Twitter, LinkedIn, or Facebook. Also, don't forget to subscribe, so you'll get emails when new content is posted.  Thanks!