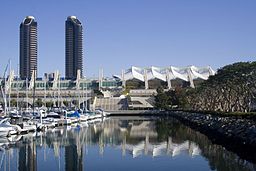 As I write this post, there are 71 days, 0 hours, 34 minutes, and 38 seconds until the Healthcare Design conference begins.  If you're still on the fence about attending, here's 10 reasons why you should:
1. Networking: With 4,000 attendees, it's the healthcare design industry's biggest event.  Everyone will be there. Well maybe not everyone, but a lot of people you know.
2. Learning: A whopping 14 session tracks round out this year's conference.  And you can earn up to 21 continuing education credits.
3. Facility Tours:  Six fabulous acute and ambulatory care facilities are on the Saturday schedule -- including the recently opened Naval Hospital at Camp Pendleton that I wrote about in the April issue of Healthcare Design magazine. Make sure you pre-register, though, as tours sell-out.
4. Professional Contacts:  Seven professional associations and nonprofit organizations are holding events at the conference, including AAHID, ACHA, AIA, ASID, CHD, HCI, IIDA, IPCD, and NIHD. Alphabet soup, I know -- look in the program to see when and where you can connect with fellow members or supporters.
6. Credential Exam Prep:  Wanting to get a credential, but don't know where to start? There are sessions to help you study for the AAHID, ACHA, and EDAC exams.
7. Exhibits: No where else will you see all the latest and greatest in products and services for healthcare spaces in one place. Preview the best of the best at the Nightingale Awards exhibit.
8. Roundtable Discussions: Small-group sessions where you can interact with others and dig deeper into issues.  All talk -- no PowerPoint. Gary Vance of BSA Lifestructures and I are leading one on boomer design on Monday, November 17.
9. Experiential Opportunities: If you want more than just the tours to "kick the tires," you can also participate in an experiential visit and workshop at the Jacobs Medical Center mock-up space and/or walk-through the NICU Patient Experience Simulation Lab at the conference site. Sign-up and extra fees are required for both.
10. San Diego:  One of my favorite places to go for a conference.  The convention center and hotels are near the water and are minutes from the airport. Temperatures in November are in the high 60s, low 70s.  There's lots to see and do once you're done conferencing. And, if you're a runner or walker, the waterfront offers miles of paths.
P.S.  Please do me a favor -- if you liked this post and like this blog, please share it with others by sending them the link and/or post it on your Twitter, LinkedIn, or Facebook, etc.  Also, don't forget to subscribe, so you'll get emails when new content is posted.  Thanks!
Photo by Luciof (Own work) CC-BY-SA-3.0, via Wikimedia Commons