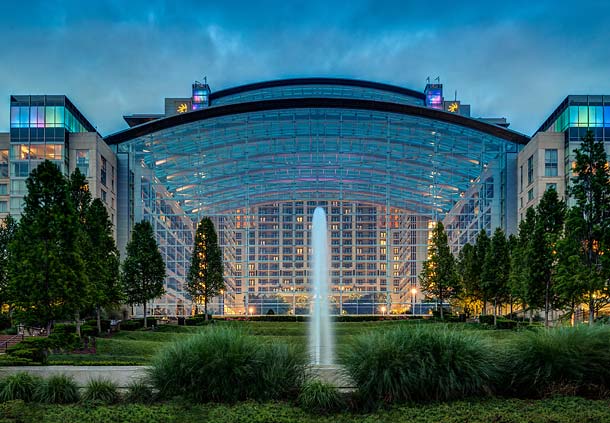 As I write this post, there are 58 days, 5 hours, 54 minutes, and 34 seconds until the Healthcare Design conference begins in Washington, D.C.  If this sounds familiar, it's because I wrote a similar post last year.
But heck, HCD is a great event, and if you're haven't made up your mind about attending, here's 10 reasons why you should:
1. Networking: With 4,000 attendees, it's the healthcare design industry's biggest conference.  Everyone will be there. Well maybe not everyone, but a lot of people you know.
2. Learning: A whopping 13 tracks with 110 educational sessions round out this year's program. There's also deep-dive workshops and pre-conference clinics. Plus, you can earn up to 23 continuing education credits.
3. Facility Tours:  Seven of the area's best acute and ambulatory care facilities are on the Saturday schedule — including a clinic that serves impoverished residents and one for the LGBT community. Make sure you pre-register, though, as tours sell-out.
4. Professional Contacts:  Nine professional associations and nonprofit organizations are holding events at the conference, including AAHID, ACHA, AIA, ASID, CHD, HCI of IFMA, IIDA, IPCD, and NIHD. Alphabet soup, I know — look here to see when and where you can connect with fellow members or supporters.
6. Credential Exam Prep:  Wanting to get a credential, but don't know where to start? There are sessions to help you study for the ACHA, CHID, and EDAC exams.
7. Exhibits: No where else will you see all the latest and greatest in products for healthcare spaces in one place. Preview the best of the best products at the Nightingale Awards exhibit.
8. Interactives: Small-group sessions where you can interact with others and dig deeper into issues.  Used to be called Roundtable Discussions. All talk — no PowerPoint. Gary Vance and I are leading one on boomer design on Monday, November 16 at 9:45 a.m. that's a follow-up to the discussion we started last year.
9. Conference Venue:  Love 'em or hate 'em, the Gaylord resort and conference centers are one of the few remaining venues where HCD can all be held under one roof.  Keeping conference attendees together is a good thing. And the Gaylord in National Harbor, MD, just down the road from D.C. is one of the newest and nicest properties. You can get out from under the dome by taking the nearby water taxi over to Alexandria, VA.
10. Changemaker Keynote:  Roger Ulrich, known as the "father of evidence-based design," is delivering this year's Changemaker Award keynote address. Always interesting to hear what's on the mind of this intellectual powerhouse who doesn't take himself too seriously. Check out this recent post I wrote about his famous view through a window study.
Hope to see you there!
P.S.  Please do me a favor -- if you liked this post and like this blog, please share it with others by sending them the link and/or post it on your Twitter, LinkedIn, or Facebook, etc.  Also, don't forget to subscribe, so you'll get emails when new content is posted.  Thanks!