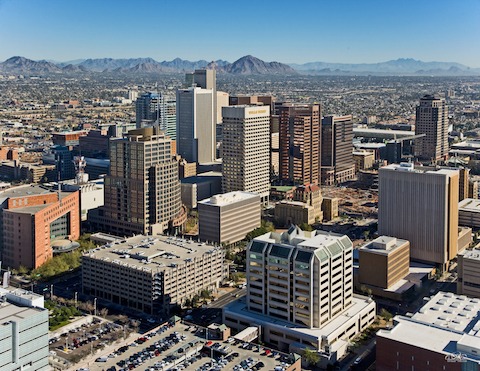 In addition to the educational sessions, there are networking events, tours, exhibits, and awards ceremonies. It's hard to believe that the Healthcare Design conference in Phoenix, AZ, is just around the corner.
If you're like me, even though I may have already signed up for educational sessions, I usually look at the program on the plane and decide which sessions I want to attend.
Sometimes you go to sessions and they aren't what you expected.  So it's always good to have a backup plan.  Here are my recommended picks, with some back-ups:
Healthier Interiors with the Healthier Hospitals Initiative:  Leading Communities to a Healthier Future. Saturday, 1-3 p.m.  This pre-conference workshop focuses on the growing concern over chemicals in furniture, fabrics, and finishes and the progress made in the sector to directly impact the supply chain. (Back-up:  TAMU workshop)
The Impact of Color:  Research Reviewed and Redefined. Sunday, 8:30 a.m. Where would we be without color in our lives? This is a really important topic for anyone who is designing a healthcare facility. (Back-up:  Hospital ICONS program)
Deliberate by Design:  A Year of Experience with the First U.S. Military Hospital to Include Evidence-based Design and Sustainability. Sunday, 9:45 a.m. Case study of Ft. Belvoir Community Hospital, the Department of Defense's first military hospital to open using evidence-based design and sustainability.
Outsights for Healthcare Design. Sunday Opening Keynote at 2:30 p.m. I've never met a blind architect, and think Chris Downey's experience where architectural space, design, and delight are sensed in non-visual ways will be fascinating.
If You Truly Want to Understand Something, Try to Change It. Morning Keynote at 8:30 a.m. This conversation between industry ICONs Derek Parker and Leonard Berry may be the highlight of the conference.
From Dirt to Design:  A Community Health Organization's Quest to Redefine the Clinic Environment. Monday, 1 p.m. This story of how the use of an evidence-based design process empowered a community health organization to elevate the clinic environment to the next level looks like a great case study — and it's also on the tour program. (Back-up:  Lessons Learned from Three Emergency Departments)
HAI-Design:  Evaluating the Impact of Healthcare Facility Design in Healthcare-Associated Infections. Monday, 2:15 p.m. Can't wait to hear the results from a large study funded by the U.S. Department of Health & Human Services' Agency for Healthcare Research and Quality (AHRQ).
The Case for Nano Healthcare. Monday, 3:30 p.m.  Here, nano refers to the size of the patient room – a smaller, more ergonomic one.
Waiting from Three Perspectives:  Design, Standards, and Operations. Tuesday, 8 a.m. This deep dive into the anatomy of the healthcare waiting room looks at what I think is a critical part of the patient experience. (Back-up:  Pediatric Inpatient Room Experience)
Regenerative Hospitals:  Design as a Catalyst for Global Wellness. Tuesday, 1 p.m. Can the healthcare industry play a role in moving beyond crisis response to proactively restoring global wellness? This concept of regenerative design should be on everyone's radar. (Back-up:  Heart of the Home)
What Will You Build in the Next Healthcare? Closing Keynote, 2:15 p.m. Futurist Joe Flower will take from his conference experience to share his insights into the nature of the deep changes happening now and soon in healthcare.
Of course, depending on your interests, these might not appeal to you at all. If not, there's many more to choose from — along with networking events, tours, exhibits, and awards.  Look for my conference wrap-up in a few weeks.
P.S.  Please do me a favor -- if you liked this post and like this blog, please share it with others by sending them the link or posting it on your Twitter, LinkedIn, or Facebook. Also, don't forget to subscribe, so you'll get emails when new content is posted.  Thanks!