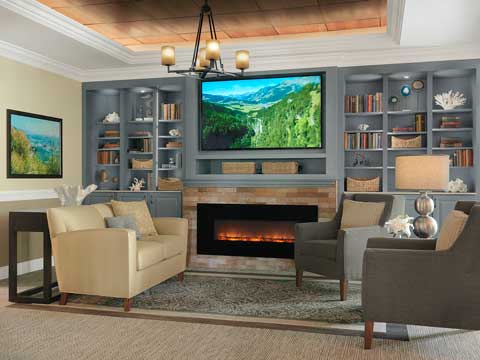 How often does something truly innovative come along in healthcare interior design? Have we reached the point where we're just tweaking best practices and products?  Maybe.
And yet, three things stand out for me so far this year.
1. Tunable Circadian Lighting System
The first is the tunable circadian lighting system at the Cottage at Cypress Cove in Fort Myers, Fla. A new memory care assisted living residence in for people with Alzheimer's disease and other dementia-related conditions, the project was designed by SFCS Architects and GMK Associates.
Confusion with sleep wake cycles is common in people with dementia. The tunable circadian lighting system in the cove lighting in all of The Cottage's common areas (shown above) has a satellite real time/place solar connection that changes the lighting with the cycle of the day.
How cool is that?
For several years, there has also been interest in using tunable white light to support the circadian rhythms of patients in hospitals. This is a controlled system of cool and warm white light that changes the light color and intensity.
Same thing only slightly different than the lighting system at The Cottage. But I think there's a lot of potential for this type of technology in many types of healthcare facilities.
Want to know more?  Check out the research from the Lighting Research Center at Rensselaer Polytechnic Institute.
2. ED Results Waiting Area Pods
The second innovation that stands out for me is the results waiting area pods presented by James Lennon, AIA, Design Team Leader for HKS Team ED, at The Center for Health Design's Emergency Department Workshop in May.
Not all patients need to be in a bed in the ED; some can be in a chair.
At New York Presbyterian Hospital, HKS designed a results waiting area as 40 sq. ft. pods with recliners, exam lights, iPads, privacy glass, acoustical properties, and dimmable lights. "This is cheap, readily available technology," Lennon said.
3. Harness & Stair System
The third innovation I found fascinating is the harness and stair system at the new Shirley Ryan Ability Lab in Chicago designed by HDR and Gensler.
Anybody remember "Easy Street Environments"?  This sort of reminded me of that.
Instead of the usual system of bars and pulleys, designer David Guynes created real life "vignettes" that rehab patients need to navigate as they transition from the hospital to home. Things like getting in and out of a car, walking up a curb, fixing food in a kitchen.
The one-story harness and stair system in the Legs and Walking Lab allows rehab patients to experience walking up and down stairs in a new and different way that is similar to the concepts pioneered by Guynes in the 1990s. I can see this type of mobility concept being utilized in regular hospitals, too.
What's Next?
I still think the next healthcare interior design innovations are going to be the introduction of smart furniture and flooring -- ones that can detect movement, blood pressure, etc. This is already happening in office furniture, as I reported from Neocon last month.
More Healthcare Interior Design Innovations
Finally, here's my list (in no particular order) of 10 of the best healthcare interior design innovations from the past 30 years. Many of these products and features are standard in healthcare facilities today.
Architectural cues for wayfinding
Lower-height counters at nurse stations
Sleep chairs/sofas for patient rooms
Nature images in the ceilings of imaging rooms
Lighted handrails in patient rooms
Sliding bathroom doors in patient rooms
Controllable window shades in patient rooms
Memory boxes/door displays in dementia residences
Anti-microbial fabrics, flooring
Copper cabinet pulls, door handles, light switches for patient units
What would make your list?
Photo Credit:  The Cottage at Cypress Cove. Photography by Alise O'Brien
P.S. Please do me a favor -- if you liked this post and like this blog, please share it with others by sending them the link or posting it on your Twitter, LinkedIn, or Facebook. Also, don't forget to subscribe, so you'll get emails when new content is posted. Thanks!