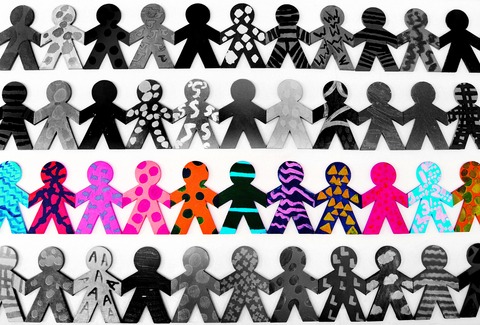 I've been thinking a little bit this week inclusive marketing. And wondering if I really know what it means.
Because it's more than just choosing an image for your marketing content that has people of different color, ages, or gender. It's about tone, language, context, representation, and avoiding stereotypes. And so much more.
Customer relationship management software company Salesforce defines inclusive marketing as "creating content that truly reflects the diverse communities that our companies serve. It means that we are elevating diverse voices and role models, decreasing cultural bias, and leading positive social change through thoughtful and respectful content."
Wow.  That's powerful stuff.
Inclusive Marketing in Healthcare & Senior Living Design
Can those of us in the healthcare and senior living design industry do inclusive marketing?
Absolutely.
But who exactly are we marketing to?  From what I've observed, there isn't a whole lot of diversity among healthcare and senior living architects or interior designers -- particularly at the leadership level.
And that's another problem.
My sense is that there is more diversity on the healthcare and senior living client side. So inclusive marketing is definitely a way for design firms to deepen connections with clients.
And just because you don't have a diverse client or customer base, doesn't mean you shouldn't do inclusive marketing.
It's something every product manufacturer, design firm, organization, consultant, etc. in the healthcare and senior living design industry should be doing. Because not only is it the right thing to do, it makes good business sense, too.
Why good business sense?
Well, data shows that people respond more positively to inclusive content in advertising. And while most of that data is for business-to-consumer products and services, there's no reason why the same shouldn't be true of business-to-business products and services.
Inclusive Marketing Strategies
Here are four inclusive marketing strategies to consider:
Make sure you know who your audience is with respect to gender, geography, income level, race, etc. Then develop or revise your audience personas.
Incorporate voices in your content who haven't seen their faces represented or been heard.
Assess whether your marketing team reflects the diversity of your audience and take that into consideration when you hire your next team member.
Adopt an inclusive review process to identify any concerns before marketing materials are released.
Want More?
I didn't just come up with this stuff on my own.  Check out these articles by other experts that go deeper:
How to Do Diverse and Inclusive Content Marketing That Matters, Content Marketing Institute, June 5, 2020.
Data Shows Consumers Want Diversity In Marketing—Why Many Brands Struggle To Get It Right And How To Fix, Forbes, February 5, 2020.
6 Principles of Inclusive Marketing: Introducing Our New Equality Trailhead Module, Salesforce, February 6, 2019.
P.S. Please do me a favor -- if you liked this post and like this blog, please share it with others by sending them the link or posting it on your Twitter, LinkedIn, or Facebook. Also, don't forget to subscribe, so you'll get emails when new content is posted. Thanks!