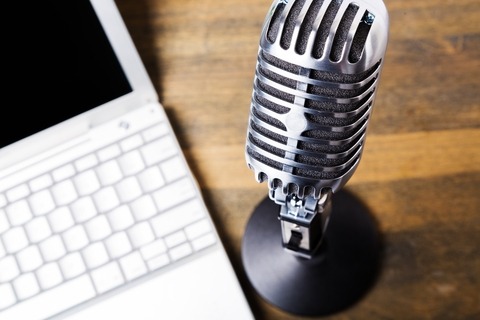 I love podcasts. Unlike a webinar, you don't have to be sitting in front of your computer staring at a screen. You can listen to them anywhere, anytime.
An ideal podcast for me is one that is 30 minutes or less, unless it's broken up into different topics with different people. Very few people (including me) are engaging interview subjects for more than 45 minutes.
Because I haven't come across very many podcasts that are specific to healthcare design, I've thought about starting one, but haven't found the time or resources yet.  And I love that companies like Kimball and OFS have jumped into the podcasting arena to start having conversations about the impact of the built environment on health and well being.
In alphabetical order, here are five podcasts about design to check out:
1. Alternative Design Hosted by Kaelynn Reid
Host Kaelynn Reid goes deeper than the mainstream conversations buzzing around the industry to present an alternative way to celebrate the human experience through design thinking and unlikely inspirational sources. Launched in January 2021. Sponsor:  Kimball International.
2. Design Nerds Anonymous
Hosts Amanda Schneider and Hannah Viti produce an interiors industry-focused podcast that sparks curiosity at the intersection of business and design. Launched in October 2020. Sponsors: ThinkLab and SANDOW.
3. Healthcare Interior Design 2.0
Host Cheryl Janis has conversations with the world's top wellness leaders, healthcare design professionals, and others related to the field about best practices, protocols and innovations. Launched in November 2018. Sponsor: Porcelanosa in partnership with the American Academy of Healthcare Interior Designers, The Center for Health Design, Nursing Institute for Healthcare Design, Art Addiction, and Stance Healthcare.
4. Imagine a Place
Host Doug Shapiro explores the powerful role that place plays in our lives by gathering and sharing authentic voices, insightful perspectives, and stories of places designed to inspire, support, and connect people. Launched in June 2020. Sponsor: OFS.
5. Shared Space
Host Erin Peavey explores how spaces shape our human experience, using science and storytelling to reveal the power of architecture and design to make us healthier, happier and more connected. Launched in June 2020.
More Talk on Clubhouse
A lot of conversations are also happening on Clubhouse, an app that engages people in live audio discussions. Nobody can see you and it isn't recorded.
Launched last March, Clubhouse now has more than 10 million users worldwide and thousands of clubs that host regular chats on every imaginable topic. Users can also start a one-time "room" to talk about whatever they want to talk about.
There are many clubs about design, but not many specifically about healthcare design. However, architect Angela Mazzi recently started hosting a discussion about "Architects as Healers: Buildings as Medicine" in her "Architecting" club at 8 a.m. CST on Monday.
You have to be invited to join Clubhouse by someone who is already on the platform. And currently only those with iPhones can use the app.
If you are an iPhone user and want to be invited to join Clubhouse, contact me or leave a message in the comment box below. Clubhouse users get a limited number of invites every week. If I have one to spare, I'll invite you!
Any maybe once more healthcare facility and design professionals are on Clubhouse, I'll start a club about healthcare design.
More about Clubhouse and how to use it>>>
Bonus
Here are three of my favorite podcasts that aren't design related:
Social Media Marketing Podcast hosted by Michael Stelzner. Weekly conversations with leading marketing experts about all things social media. A must for marketers and small business owners who want to know what works.
This American Life hosted by Ira Glass. Weekly public radio program and podcast. Each week, Ira and his team choose a theme and then put together different stories based on that theme. Storytelling at it's finest.
Super Soul hosted by Oprah Winfrey. Oprah's personal selection of her interviews with thought-leaders, best-selling authors, spiritual luminaries, as well as health and wellness experts. Inspiring conversations that help guide you through life's big questions and realize your best self.
P.S. Please do me a favor -- if you liked this post and like this blog, please share it with others by sending them the link or posting it on your Twitter, LinkedIn, or Facebook. Also, don't forget to subscribe, so you'll get emails when new content is posted. Thanks!
Photo 62802137 © Oleg Dudko | Dreamstime.com