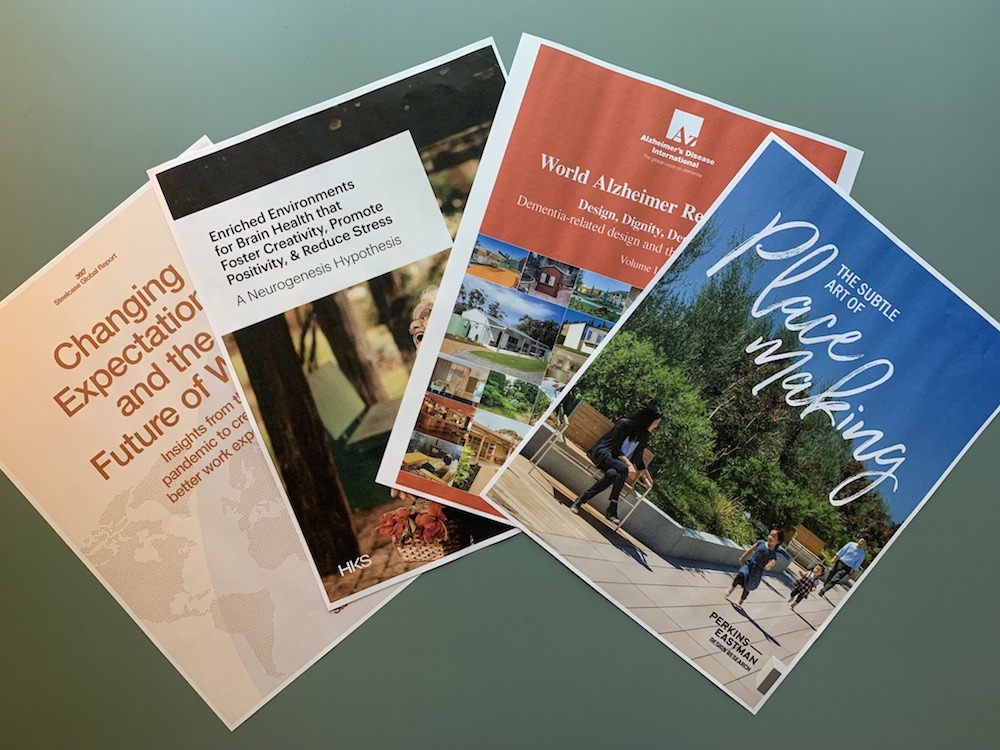 If you're an information junkie like me, you're going to love these new design resources I came across recently.  Three are about designing environments for seniors; the others have ideas that can be applied to both healthcare and senior living design.
And guess what?  They are all free.
The companies and organizations that funded these reports and white papers are thought leaders in the design industry and I'm grateful that they continue to share valuable insights and information.
I have to admit that I haven't had time to read every one of these white papers and reports cover to cover, but I have browsed through all of them and summarized why I think they are useful. Here they are, in no particular order:
1. Senior Living Design
"Creating an Intergenerational Experience in Senior Living: Seven Guiding Design & Operational Principles." Witz Company, 2021. 39 pages. I recently attended a webinar with Craig Witz in which he spoke about many of the concepts presented in this paper, which are spot on of how to deal with the changing expectations and needs of the next generation of seniors.
Besides the principles the paper tells us why change is coming, why seniors want an intergenerational experience, and how an intergenerational experience benefits everyone. Also provides examples and ideas of how to put the principles into practice.
A must read for senior living owners and operators, as well as designers.
2. Designing More Meaningful, Impactful Places
"The Subtle Art of Placemaking." Perkins Eastman, 2021. 62 pages. An investigation into just how essential quality places are to people's holistic well-being. Proposes that placemaking occurs at three scales: city, building, and interior.
Also shares a list of 12 place attributes and two lenses that can be used to create more meaningful and positively impactful places. This is stuff that all designers can put into practice right now.
3. Biophilic Design
"Working With Fractals: A Resource for Practitioners of Biophilic Design." Terrapin Bright Green, January 2021. 17 pages. Explores the history and science of fractals found in the natural world for indoor environmental health. Also provides a high-level conceptual framework for thinking about designing with fractals.
If you don't know what fractals are, you need to read this paper. If you do know what they are, you need to read this paper to find out more about how to use them in design.
4. Workplace Design
"Changing Expectations and the Future of Work." Steelcase, January 2021. 41 pages. A synthesis of eight primary studies designed to measure how the Covid-19 pandemic will change the future of work. Findings are from multiple countries and more than 32,000 cumulative participants.
Offers great insights that can be used to design hybrid workplaces for administrative staff.
5-6. Designing for Cognitive Impairment and Dementia
"Enriched Environments for Brain Health that Foster Creativity, Promote Positivity, & Reduce Stress: A Neurogenesis Hypothesis." Hume Space and HKS, 2021. 18 pages. Explores age-related cognitive decline and the significance of the design of the physical environment in mitigating cognitive impairment.
If you want to know more about how to design spaces that enhance brain health in older adults, this paper offers some fresh thinking.
"World Alzheimer Report 2020. Design, Dignity, Dementia: Dementia-related Design and the Built Environment." Volume I, 248 pages; Volume II, 264 pages. Alzhemier's Disease International, September 2020. This comprehensive report (512 pages!) just won a 2021 European Healthcare Design Award for Outstanding Contribution to Global Knowledge.
Volume I has contributions from many experts on a variety of topics, including: the most current thinking on design principles, lessons learned from groundbreakers in dementia care design, inclusive design, designing for culture and context, and education and training to raise awareness about the benefits of good design. Volume II contains 84 case studies from 27 countries.
The breadth of this report is mind-boggling. An instant classic and invaluable resource for anyone planning and designing environments for people with dementia.
P.S. Please do me a favor -- if you liked this post and like this blog, please share it with others by sending them the link or posting it on your Twitter, LinkedIn, or Facebook. Also, don't forget to subscribe, so you'll get emails when new content is posted. Thanks!