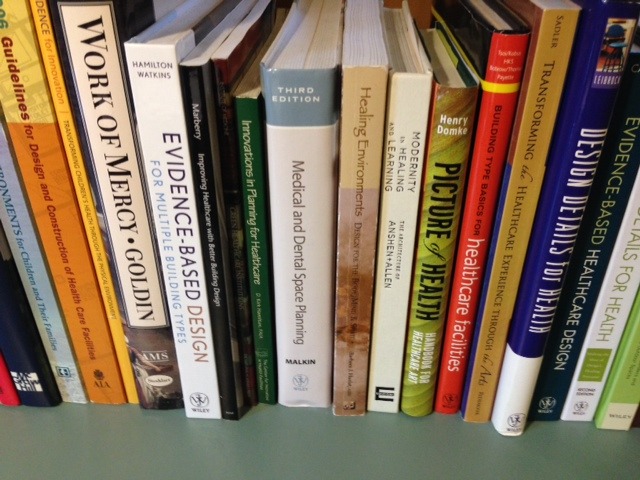 The recent release of the fourth edition of Jain Malkin's classic healthcare design book, Medical and Dental Space Planning, has got me thinking about other must have books.  Even if you don't have the time or inclination to read an entire book, it's good to at least have them on hand for easy reference or inspiration when you need it.
Here are 6 more books about healthcare design, in alphabetical order by title:
1. A Visual Reference for Evidence Based Design by Jain Malkin (166 pages, The Center for Health Design, 2008). Malkin takes us on a journey to explain research-informed healthcare design with more than 300 annotated project photos and commentary.
2. Design Details for Health by Cynthia A. Liebrock and Debra Harris (304 pages, John Wiley & Sons, 2011). Second edition of this book is about how to use design to empower rather than disable. Covers a range of facility types -- including long-term care and independent living.
3. Rigor and Research in Healthcare Design by D. Kirk Hamilton (235 pages, Herman Miller Healthcare, 2013). A compendium of the best of Hamilton's evidence-based design writings from the HERD Journal and Healthcare Design magazine.
4. Sustainable Healthcare Architecture by Robin Guenther and Gail Vittori (480 pages, John Wiley & Sons, 2013). Second edition of this book is even better than the first, with 55 new project case studies.
5. Therapeutic Landscapes by Clare Cooper Marcus and Naomi A. Sachs (326 pages, John Wiley, 2014). The definitive book on designing restorative outdoor spaces. Also includes a chapter on the history of outdoor hospital spaces.
6. Work of Mercy by Grace Goldin (The Boston Mills Press, 1994). A pictorial and narrative history of hospitals, beginning in the 16th century up to "modern" times.
P.S.  Please do me a favor -- if you liked this post and like this blog, please share it with others by sending them the link and/or post it on your Twitter, LinkedIn, or Facebook, etc.  Also, don't forget to subscribe, so you'll get emails when new content is posted.  Thanks!