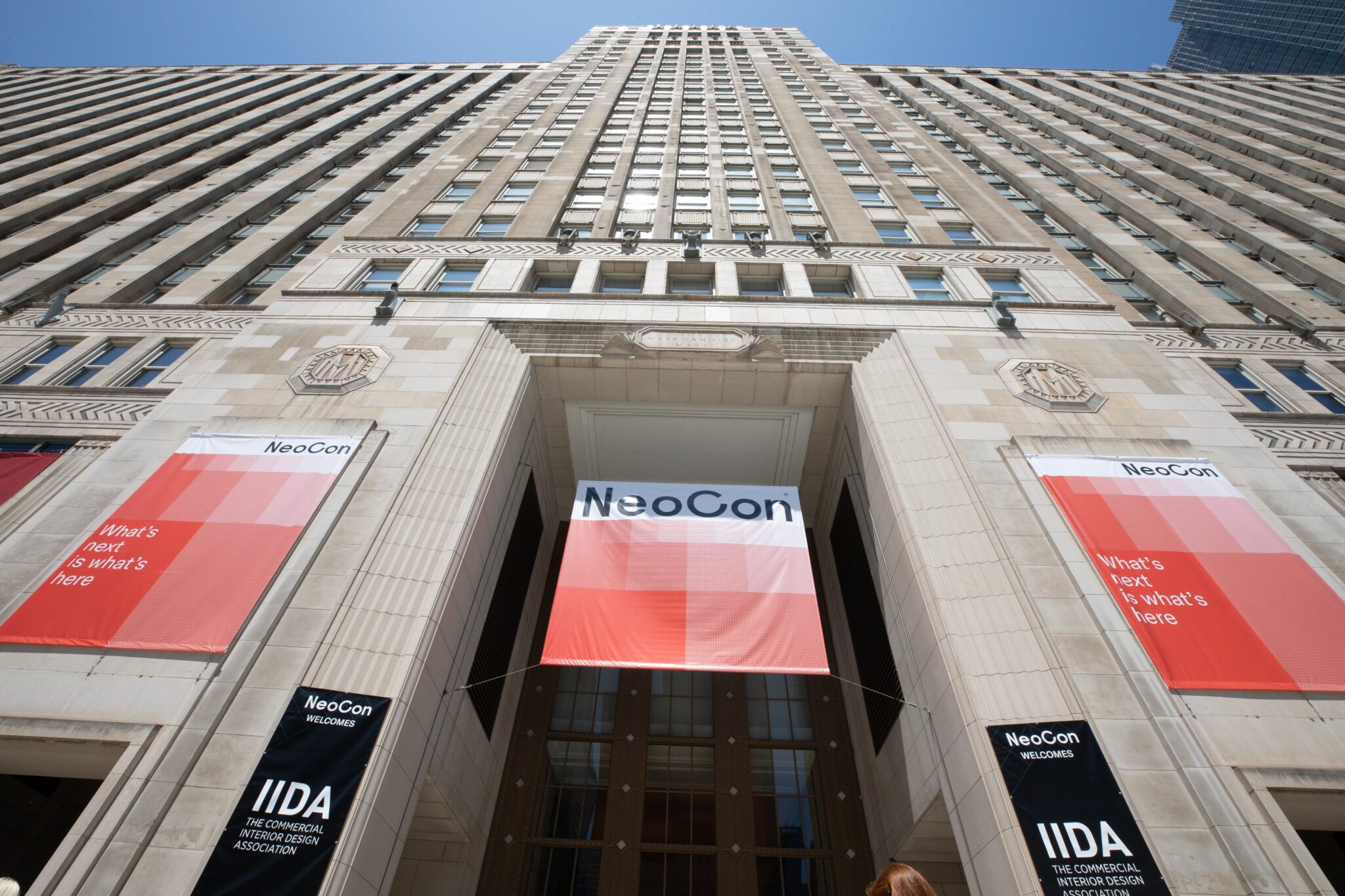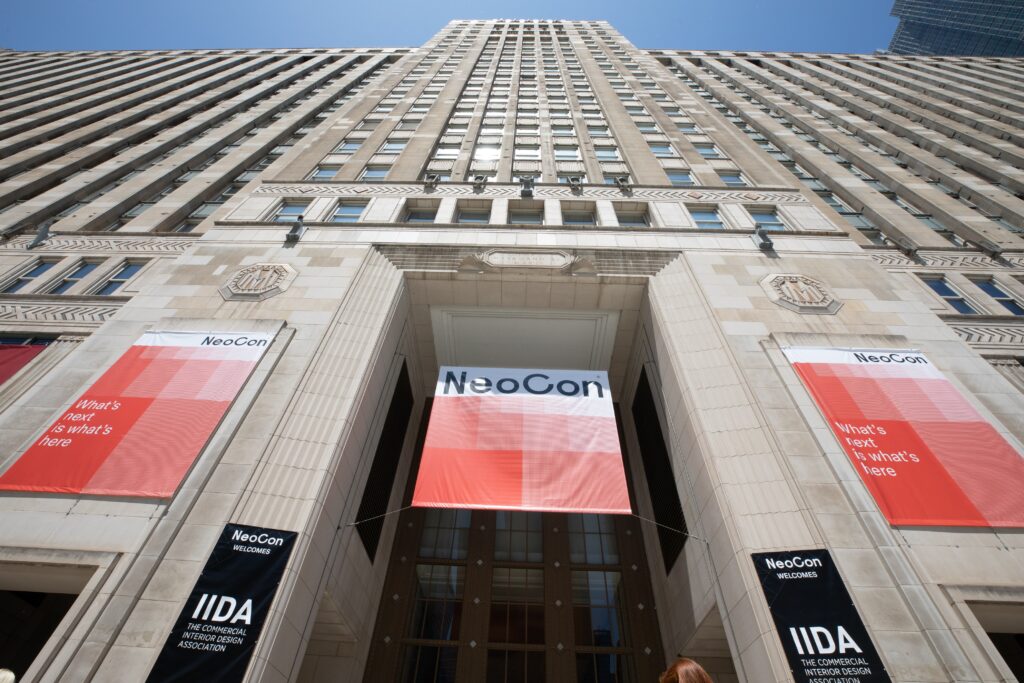 I spent one day at NeoCon at The Merchandise Mart in Chicago this week. It was the first in-person trade show I'd been to since the pandemic started.
As expected, attendance was way down, so it was easy to get around The Mart for a change. I even found myself alone in an elevator a couple of times.
But it was a Neocon like no other I've been to in the past 30+ years. Here are some of the reasons why:
Instead of being in June, it was in October. Fall instead of summer. But still nice enough weather to enjoy a cocktail outside on the Mart River Parc at the end of the day.
Many long-time tenants of The Mart are gone. Companies like Herman Miller, Knoll, Versteel, Bentley, and others I probably didn't notice. And some, like J+J Flooring, didn't even open their doors during the show.
Except for the keynotes, all the educational sessions were virtual. I suspect this was a nod to the people who weren't able to attend because of travel restrictions and also a way for The Mart to generate some more income from the show.
Everyone walking the halls and in the elevators was masked. Some took their masks off while in showrooms, but for the most part, people were complying with the mask requirement.
Also, because NeoCon was held at a different time of year and is scheduled again in June 2022, many of the healthcare furniture manufacturers that I visited did not introduce new products or redesign their showrooms.
Healthcare at NeoCon
It was disappointing to see Steelcase Health with the same showroom and products from two years ago. OFS's Carolina had a couple of new healthcare products that were deemed worthy of HiP Awards by Interior Design magazine, but hasn't changed its showroom either. I expect both of them to make a bigger splash at the Healthcare Design Expo + Conference in a few weeks.
But it was nice to see all the new products introduced by Kwalu, three of which were selected by a jury of healthcare designers for Best of NeoCon Awards in the Healthcare category for guest/lounge and patient seating. Armstrong, GMI Companies, CF Stinson, and Momentum also won healthcare Best of NeoCon Awards.
Wieland had a fresh new showroom and Integra was showing some new seating products. And I discovered the HAT Collective's versatile line of mobile medical carts and sit-stand surfaces for healthcare.
Of course, my one day at NeoCon did not allow me to see all the healthcare products within the vast floors of The Mart. I didn't even make it to the temporary exhibits on the 7th floor and missed some of the other healthcare products that won HiP Awards.
What Will Become of NeoCon?
I left NeoCon wondering what's going to become of the show. Many product manufacturers are rethinking their showroom strategy and are no longer willing to pay top dollar for space that they use only a few times a year.
So I expect the permanent showrooms in the building to shrink even more. Maybe even one day there will be more temporary exhibits at NeoCon than permanent showrooms.
But because of its size, in the near future, The Mart will still be the place where you can see more product than anywhere else. A healthcare designer who is in the furniture specification phase of a new hospital project told me that's why she was at NeoCon this year.
Other Highlights
Other highlights of my day at NeoCon included finally meeting OFS's Doug Shapiro in-person. Doug, who took home a HiP Leader Award he got at NeoCon, interviewed me on his Imagine a Place Podcast earlier this year.
Another highlight was a visit to the Metropolis Sustainability Lab on the 10th floor where I had a chat with Metropolis Editor Avinash Rajagopal. It was good to see Metropolis (along with ASID, IIDA, and IDC) launch an Interior Design Pledge for Positive Impact at NeoCon -- the first comprehensive framework for sustainable, healthy, and just interior design.
Finally, I also attended the Design Your World film premier about IIDA's education pipeline program to engage high school-age kids of diverse backgrounds to become interested in design careers. In the pilot program featured in the film, IIDA told the story of how it partnered with the Chicago-based non-profit organization, After School Matters along with sponsors OFS, 3form, Configura, and Mannington Commercial to offer a six-week commercial design curriculum for high school students.
IIDA has other pilot programs planned for other cities and is also encouraging designers to reach out to high school students in their communities to let them know about the opportunities to work in a creative field like interior design.  This is a great initiative that all designers and product manufacturers should get behind!
If you were at NeoCon, what did you see or do that was interesting? Respond in the comment box below or email me.
P.S. Please do me a favor -- if you liked this post and like this blog, please share it with others by sending them the link or posting it on your Twitter, LinkedIn, or Facebook. Also, don't forget to subscribe, so you'll get emails when new content is posted. Thanks!