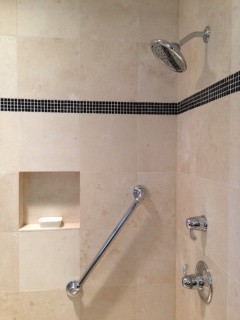 Last week, the Wall St. Journal ran an article about middle aged boomers buying condo units in in hip, urban areas of some of America's largest cities.  To attract older, more wealthier buyers, builders are adding amenities like "bigger and more luxurious fitness centers, higher end finishes, clubhouse-type common rooms and wine storage rooms."
A builder in New York was quoted as saying that he wouldn't install "features found in homes for the aged, like wide doorways or grab bars in showers." He didn't want to remind people that someday they might need those things.  Didn't want them thinking about their next stage in life.
What a dumb statement.  If he were smarter, he'd realize that building a home that supports aging in place has additional marketing appeal.  And it doesn't have to be ugly or scream "YOU'RE OLD!"
It's all how you spin it.  And how you design it.
If you don't believe me, read my blog post about Cynthia Liebrock's demonstration home for aging in place.
Plus features, like grab bars in showers and low thresholds, create safe, supportive environments for people of all ages.  Because falling is the number one cause of injury in the home for children, youth, and adults.
When I slipped in my shower a few years ago and had nothing to hold onto, I had grab bars installed -- in all three of the showers in my house. They aren't ugly and don't scream, "YOU'RE OLD!"
Builders and people renovating their homes may balk at the extra cost to install special drains in showers so they can be low-threshold without causing water issues. But what's the cost of a fall?
And personally, I'd love it if I could reach all the cabinets in my kitchen without having to stand on a chair and risk falling.  I want the condo that I move into after this house to have those features.  I want it to be hip, urban, and safe.
P.S.  Please do me a favor -- if you liked this post and like this blog, please share it with others by sending them the link and/or post it on your Twitter, LinkedIn, or Facebook, etc.  Also, don't forget to subscribe, so you'll get emails when new content is posted.  Thanks!