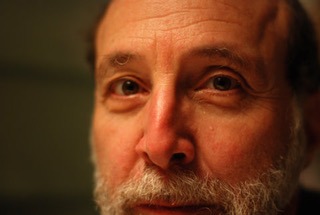 Many years ago, as a young architect, Roger Leib grew tired of doing large-scale planning projects. So he pivoted to designing furniture.
Industrial Design magazine did a four-page feature on the first chair he designed and the rest, as they say, is history. He started ADD Interior Systems (later renamed ADD Specialized Seating Technology) in 1980, designing and manufacturing award-winning patient chairs.
His most well known patient chairs, Warren and Rose, were innovative, contemporary alternatives to the clunky traditional rocking chairs that were in many healthcare settings in the 1970s and 80s. Designed to support patient motion and mobility, they had flexing mesh seats and backs, lumbar support, and extended armrests.
Where Roger Leib and I Met
I caught up with Roger recently via Zoom from his home office in Los Angeles.
He and I first met when we both joined the Advisory Council for the Symposium on Healthcare Design in 1988. His company was also a Founding Sponsor of the first Symposium. And like me, Roger was a founding board member for The Center for Health Design in 1993, which grew out of the Symposium.
We got to know each other and Roger hired me as a marketing communications consultant to help promote his company, which I did for several years. Telling others about Roger's revolutionary concept of the patient chair as a therapeutic device was something I really enjoyed doing.
In 1998, much to the surprise of many of us who knew him, Roger sold ADD to KI.
Was It A Good Decision?
I asked him how he felt about that decision now. "It was a horrible decision," Roger said, explaining that KI was going through a manufacturing problem around the time of the acquisition. "Healthcare was the last thing on their mind."
As part of the deal, though, Roger was engaged to train KI's salespeople, which he enjoyed -- although he quickly became weary of the travel. But he never got along very well with KI's leadership and only stayed for two years.
Roger laments the fact that he could have sold the company to Herman Miller, who was also interested. "Herman Miller would have been a much better fit," he said.
Moving On
After KI, Roger took some time off and then went to NeoCon one year where he connected again with folks at Herman Miller. He started designing products for Herman Miller, focusing again on mobility and motion.
Herman Miller never produced Roger's design for a health positive chair for workplaces. So he moved on to other things, working with the start-up Aditazz to design a patient mobility platform that was key to the firm's winning entry in Kaiser Permanente's Small Hospital, Big Idea design competition in 2012.
Roger and Aditazz had plans to produce the Patient Mobility Platform (which I thought was another brilliant idea), but the funding dried up. So once again, he moved on.
What's Roger Leib Doing Now?
"My interest in safe patient handling and movement has translated into the work I'm doing now," Roger said.
"I'm looking to revolutionize the way that people sit and bring [sitting] into the 21st Century," he explained. "Many of us sit at desks all day. That's the way we use our bodies, which isn't much different than how people sat 100,000 years ago on a rock."
Basically, Roger wants to undo the sedentariness of daily life by changing how people sit in offices, in front of the TV, in their cars, on planes. "If you can change the concept of sitting, you can change people's health," he said.
That's cool stuff.
Roger's working with people at the University of Southern California and is awaiting finalization of a government grant that will allow him to build more samples for testing.
"In order to get a government grant, you have to pick a direction," he explained. His focus for this one is on cardiac rehab in the home. Roger is also exploring looking at the role of exercise in lessening the risk of Alzheimer's Disease.
When He's Not Working
Roger admits he works a lot, but when he's not working, he likes spending time with his three grandkids and gardening. Prior to the pandemic, he and his wife Bonnie also did quite a bit of worldwide adventure travel.
He's also involved in politics and fighting anti-semitism. And, he wants to write a book that updates and expands on the ideas of architect Richard Neutra (who was an early mentor), answering questions like:
What's the evolutionary nature of humankind and how does or should that determine our built (and now also virtual) environments?
Why are some things universally seen as "charming," "cozy," "inviting," etc.
Kinda makes you wonder if the man ever sleeps.
P.S. Please do me a favor -- if you liked this post and like this blog, please share it with others by sending them the link or posting it on your Twitter, LinkedIn, or Facebook. Also, don't forget to subscribe, so you'll get emails when new content is posted. Thanks!