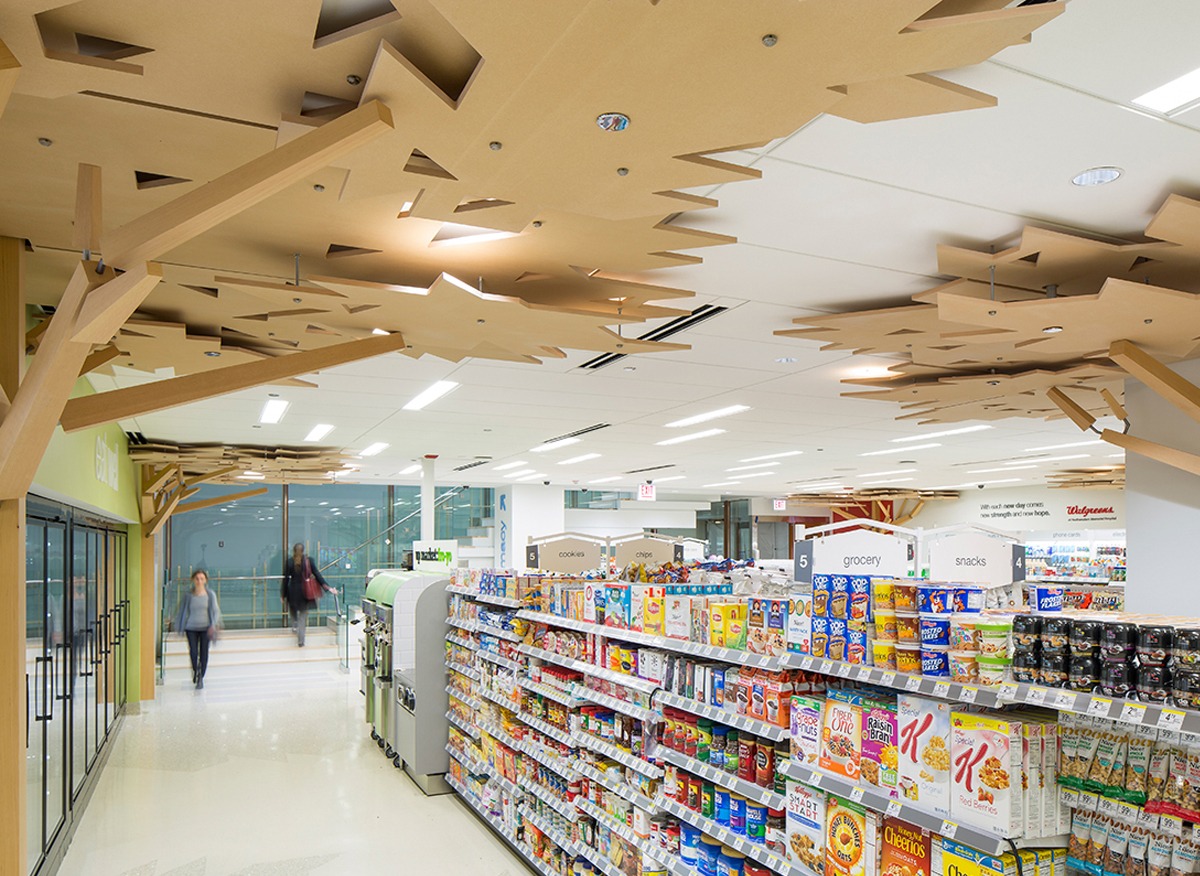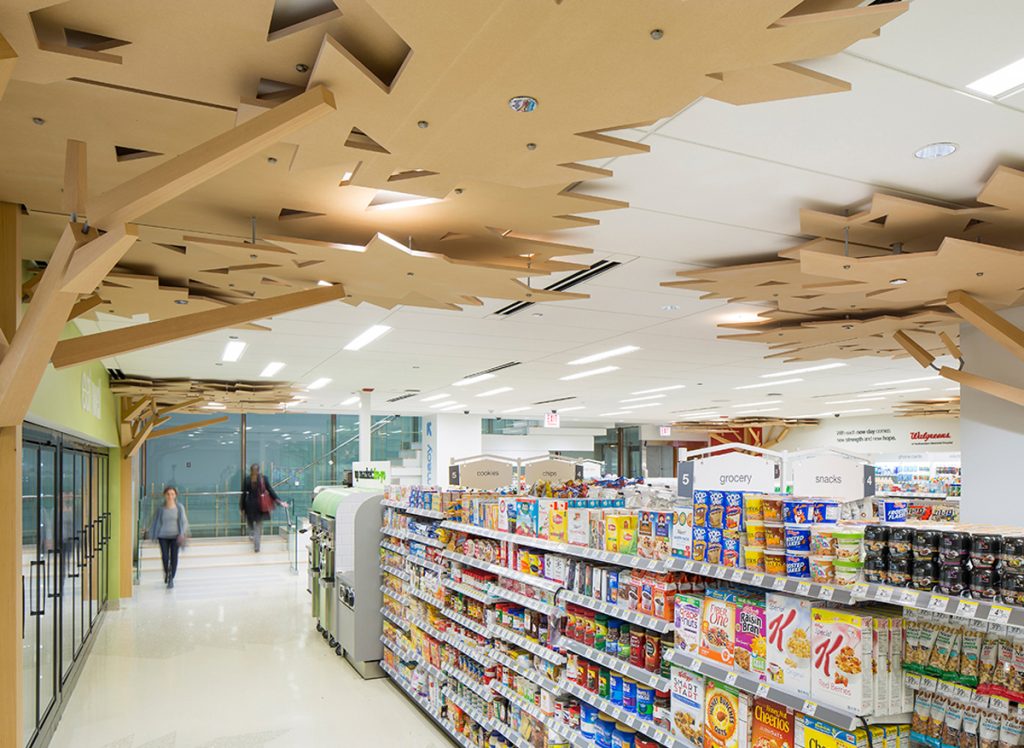 It's hard to imagine a pharmacy brought to life using biophilic design. But that's what the project team at VOA Associates did with the one it designed for Northwestern Memorial Hospital's Galter Pavilion in Chicago.
In a nutshell, biophilic design is design of spaces that re-connect us to nature. It's not new. Google it and you'll find many books, papers, and even a documentary film on the subject.
Biophilic Design Not New to Healthcare
It's not new to healthcare either. Designers have been abstracting nature in healthcare settings for many years using artwork and other architectural design elements. But I'm not sure I've ever seen it done in a pharmacy before. Or this good.
The two-story store has retail on the ground floor and the pharmacy above, connected by a staircase.  Taking inspiration from the Chicago's lakefront parks, the space features elements that simulate trees, their shadows, and the lake itself.
To reach the pharmacy level, you go up a grand staircase resembling stacked tectonic plates. Floating light fixtures above, symbolic of sky lanterns, represent health and happiness. On the second floor, the pharmacy represents being figuratively up in the sky, amongst the clouds. Traced on the floor are the shapes of the tree canopies below.
"We wanted it to be more tactile, not just a poster on the wall," said Michael Siegel, AIA, Associate Principal, VOA Associates, in a presentation at the Healthcare Facilities Symposium and Expo at Navy Pier in Chicago this week. Achieving that without making it look like a Rainforest Cafe was the goal.
And here's an interesting stat. Since the store opened in late 2014, same store sales have improved 20-30%. Part of this is because the store tripled in size, but patients, staff, and people in the surrounding Streeterville community love it, says Robin Kosiek, Director, Healthcare Asset Development for Walgreens.
Does this mean biophilic design will be coming soon to a Walgreens near you? Probably not, according to Kosiek (too expensive, perhaps?). But my guess is that the company learned a thing or two from this project that may influence the design of its stores and retail clinics in the future.
P.S.  Please do me a favor -- if you liked this post and like this blog, please share it with others by sending them the link and/or post it on your Twitter, LinkedIn, or Facebook, etc.  Also, don't forget to subscribe, so you'll get emails when new content is posted.  Thanks!