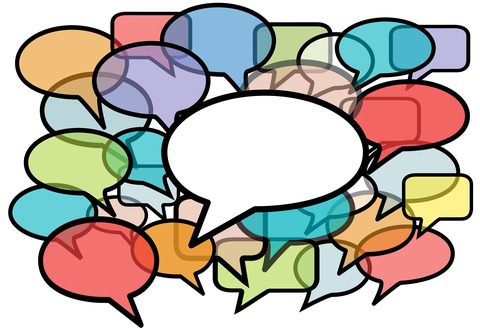 How do you stand out in a noisy world?
According to professional speaker and author Scott McKain, it's by being distinctive. Scott shared his thoughts on last month on a podcast hosted by Social Media Examiner that I listened to this week.
"Distinction is important because it helps a business rise above the noise and clutter, giving an opportunity to create emotional connection—the only place loyalty comes from in any business relationship," Scott said. "There's no reason for anyone to be loyal to anything toward which they have no feeling."
This goes along with all the stuff I've been posting about empathy lately.
What Are Your Customers Looking For?
"To stand out in today's landscape, brands need to attract their customers by establishing an identity that stands out from the crowd and speaks to what their customers are looking for," Scott said.
Now Scott mostly works with consumer brands. But his advice is relevant to those in the healthcare and design industry -- whether you're a design firm, product manufacturer, hospital, clinic, senior living community, or something else.
I also think it goes a bit deeper than just what your customers (or patients) are looking for. It's also what they want and why.  What matters to them.
And you can only find this out by asking them.
Distinctive vs. Iconic
"Being distinctive means you stand out in your respective marketplace," Scott said. "Becoming iconic means you transcend your specific field and are recognized as an example beyond your own specific industry."
So, probably your local hospital is distinctive. But hospitals like the Mayo Clinic, Cleveland Clinic, Sloan Kettering Memorial Cancer Center, and the Shirley Ryan Ability Lab (formerly the Rehabilitation Institute of Chicago) are iconic.
And, as Scott pointed out, "You can be distinctive and not be iconic, but you can't be iconic without first becoming distinctive."
Right.  That means you first have to create distinction, which, according to Scott, has four cornerstones:
Clarity -- What are you all about? What is your high concept? Could be your mission and vision, but it has to trigger emotions and feelings.
Creativity -- Innovative ideas come after, not before clarity.
Communication -- How you communicate who you are is what sets the standard by which you'll be judged.
Customer Experience Focus -- How does it feel to do business with you? It's the customer experience that creates feelings of loyalty.
Whether your customers are designers/architects, healthcare professionals, patients, or seniors, each of these cornerstones matters. Together, they provide a simple but powerful strategy to stand out in a noisy world.
Also, I'd argue that design supports and reinforces each of these cornerstones.
For more of Scott's ideas and advice, read the listen to the podcast and/or read the show notes.
P.S. Please do me a favor -- if you liked this post and like this blog, please share it with others by sending them the link or posting it on your Twitter, LinkedIn, or Facebook. Also, don't forget to subscribe, so you'll get emails when new content is posted. Thanks!