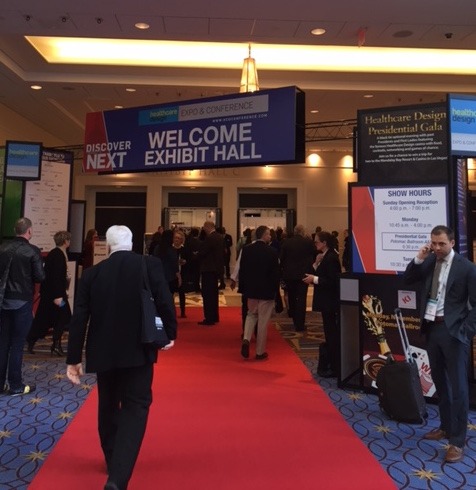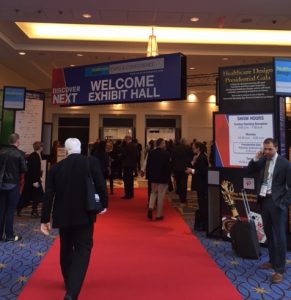 How can we better design our communities and buildings to better meet the needs of an aging Baby Boom generation, which has higher rates of chronic conditions than the generation before them?
That was the first question Gary Vance and I proposed to the 30+ people that attended our Interactive Session on Boomer design at the Healthcare Design conference in Washington, D.C. this past Monday.
What are specific features that every community and/or building should have?
Universally Universal Design
The first thing somebody said was to take a universal design approach. The discussion flowed from there with comments about lighting and glare, color and contrast.
"The hotel we're in is a perfect example," one person said. "The carpet patterns are so busy that it's hard to tell when the flooring changes. I've already tripped two times. And this is a fairly new hotel."
I didn't trip on the hotel carpet, but I did almost lose it on the "entrance flooring" that was placed in front of the entry to exhibit floor. Nice sponsorship idea, but a hazard for people of all ages.
I also banged my leg on the sharp edge of the bed frame in my fancy hotel room. The only thing I'd had to drink was water.  Still hurts.
But I digress. Bathrooms in public buildings are also an area of concern for our session attendees. Shouldn't all toilet stalls have grab bars -- not just the handicapped accessible ones?
Others commented on stair placement and the design of stairways/staircases that promote walking. Yes, of course, because we keep hearing that sitting is the new smoking.
Healthcare Where You Are
Then the discussion turned toward home design. Because not all Boomers are going to be able to afford (or want) to move into retirement communities that are designed support an aging, active population.
And many will be getting their healthcare at home. Again, many in our group felt that the bathroom becomes the biggest issue.
Aging in place and home healthcare present a great opportunity for product manufacturers. Why shouldn't the healthcare furniture manufacturers be thinking about this market?  We talked a little bit about this, but time ran out.
Like the home office market, it may be one they just don't want to get into. But that's a topic for another discussion or blog post.
A Shameless Promotion
Speaking of home healthcare, I encourage all of you to download the C.A.R.E. at Home app to get stunning nature video and relaxing music right in the palm of your hand! (Full disclosure: Healing HealthCare Systems, producers of The C.A.R.E. Channel, which is played in more than 800 hospitals, is one of my clients.) iOS version only; Android version coming soon.
P.S.  Please do me a favor -- if you liked this post and like this blog, please share it with others by sending them the link and/or post it on your Twitter, LinkedIn, or Facebook, etc.  Also, don't forget to subscribe, so you'll get emails when new content is posted.  Thanks!