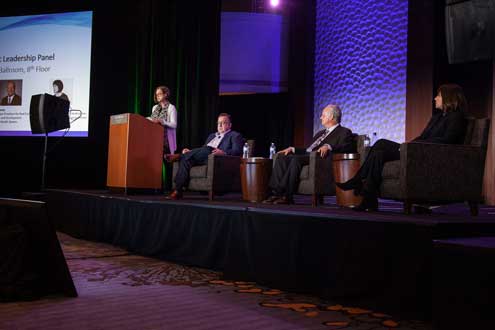 Last week I was at the ACE Summit and Reverse Expo in Atlanta.
And I have to admit, I'd never heard of this conference until I was asked to moderate the opening Thought Leadership Panel.
The name "ACE" comes from the types of professionals who attend -- about 700 individuals from hospital Architecture/design/construction, Capital equipment sourcing, and facilities Engineering and infrastructure.
The idea to explore how to break down the silos among those three groups and make healthcare more transparent.
Now I know a lot about hospital design, construction, and facility management.  But I know next to nothing about capital equipment sourcing and supply chain.
However, with a little help, I rose to the challenge.
ACE Summit Thought Leadership Panel
We talked about a variety of topics during the Thought Leadership Panel.
Panelists were Joe Colonna, Vice President of Supply Chain at Piedmont Healthcare; Mark Haney, Senior Vice President for Real Estate, Facilities and Development at Wellstar Health System; and Suzen Heeley, Executive Director, Design + Construction at Memorial Sloan Kettering Cancer Center.
I found the most interesting part of our discussion to be about the role of the supply chain group, vendors, and end users during the planning, design, and construction process.
Who Should Be Included?
I shared a statement by a national healthcare supply chain analyst that supply chain folks take an active/primary role in new hospital construction projects only 10-20% of the time.
They agreed that this might have been the case 10-20 years ago, but not now. At least not at their organizations.
They are all including supply chain early on in the process, as well as front-line staff and caregivers. "Our systems are so much more complex today," said Haney. "You need to be sure you're involving the end user as well as the largest decision maker to make sure that everyone is envisioning the same outcome."
"I've been on projects where we put the equipment in the wrong spot because we didn't include the right people," said Colonna, adding that another reason to get the right people in the room as early as possible is so that they don't become roadblocks later.
Asking the Right Questions
Asking the right questions is also critical to the process.
"Instead of asking how many rooms do you need, what size rooms do you need, we probe about what the activities are, who they are working with...what tasks they are doing," said Heeley, adding that these conversations get people thinking about what could be as opposed to what it is.
Haney said it is important to challenge people to think about how they would adopt new technology or new systems in their current environment. To ask them "What's keeping you from doing that today?"
Multiple Decision Makers With Complex Interests
All agreed that skillful facilitation of the process is one of the best ways to deal with multiple decision makers with complex interests during the planning process.
Colonna said that a good way to inform and enlighten people is to talk about things that have failed. He also said that because more voices are being heard, vendors can no longer expect to get one person to be their champion and "bully it until the end."
Heeley shared that her organization is looking beyond healthcare to create patient and staff experiences that are much more positive and stress reducing. They hired an experiential design consultant who'd worked in aviation.
"Patients are anxious," she said. "They're sitting in waiting areas. They don't want to go far from the reception desk because they don't want to be forgotten. It's a parallel experience in an airport."
Having food service, retail amenities, and charging stations in waiting areas are some of the strategies the airline industry is doing. "Bringing in those consultants who toss out those 'what if' ideas engenders thinking that breaks past the healthcare industry," Heeley stated.
Biggest Challenge
When asked by a person in the audience what their biggest challenge in deploying a successful hospital construction project, they spoke about increasingly shorter timeframes and dealing with all the people involved -- some of whom may not have realistic expectations of what can be done.
But the way to address this is to select the right team members, engage them, and be transparent. "We found that the more open you are -- the more you show your warts, the more people will feel you're being honest with them," said Heeley. "This builds trust and relationships.  That's the key to a successful project."
Watch the Entire 70-Minute Discussion
More About ACE
Next year's ACE Summit and Reverse Expo is February 17-19, 2020 at the Westin Peachtree Hotel, Atlanta. After that, it moves to Orlando.
Finally, if you're wondering what a Reverse Expo is, instead of vendors standing in booths, senior healthcare and group purchasing organization (GPO) executives stand in booths for four hours one afternoon while vendors line up to talk to them.
The business model for this is that in exchange for participating in the Reverse Expo and other events, senior healthcare and GPO executives don't pay to attend the conference. Revenue is from vendor registrations and sponsorships.
And it seems to work.  Everyone was pretty happy.
P.S. Please do me a favor -- if you liked this post and like this blog, please share it with others by sending them the link or posting it on your Twitter, LinkedIn, or Facebook. Also, don't forget to subscribe, so you'll get emails when new content is posted. Thanks!