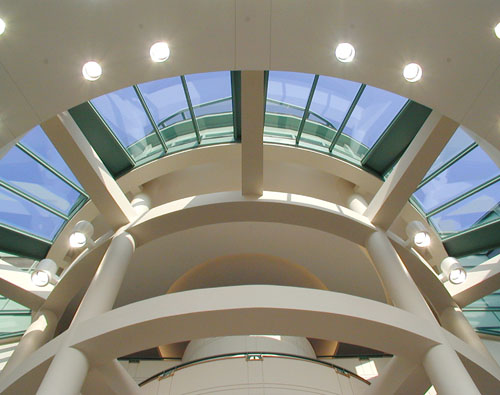 The article headline jumped out at me: "Bronson Methodist Hospital's Design Still Groundbreaking Nearly Two Decades Later."
It was followed by this subhead: "The ACHA 2017 Legacy Project Award winner remains just as relevant as when it was first built."
Still being groundbreaking is one thing.  Remaining relevant is another.
When it opened in 2000, the design of Bronson Methodist Hospital in Kalamazoo, Mich., was groundbreaking because, among other things, it had:
All private patient rooms
Indoor garden
Four-story atrium flooded by natural light
Floors designated by specialty
Consolidated outpatient imaging and testing services
It was designed with patients in mind (a relatively new concept at the time) and used strategies that produced positive outcomes. And while the evidence-based design (EBD) process was not defined nor widely understood in the 1990s when it was designed, Bronson Methodist Hospital became an EBD poster child.
For many years, it was the signature project in The Center for Health Design's Pebble Project, which brought healthcare organizations that were designing and building new facilities together to share and learn from one another and get introduced to the evidence-based design process. The ultimate goal was to generate more research linking the design of the physical environment to outcomes.
Innovation Doesn't Happen Overnight
To say that Bronson is "still groundbreaking" may imply to some that no other truly groundbreaking hospitals have been designed since 2000.
And maybe we haven't.  But change-the-world innovation doesn't happen overnight. It took us 100 years to put wheels on our suitcases!
What has happened, though, is that many of Bronson's innovations have been taken to the next level.  As I recall, the design of some of its patient rooms is nothing to write home about.
Would we have seen an Army Medical Center like this one, let alone on the cover of Healthcare Design, in 2000? So, the healthcare and design industry has made progress.
That Bronson Methodist Hospital's design is still relevant after 17 years is a good thing. Especially since the expected lifespan of a hospital building is 30-40 years.
Perhaps we should check back in on it in 2030.
In the meantime, the healthcare and design industry should keep celebrating good design and challenging each other to push the envelope.
P.S.  Please do me a favor -- if you liked this post and like this blog, please share it with others by sending them the link and/or post it on your Twitter, LinkedIn, or Facebook, etc.  Also, don't forget to subscribe so you'll get emails when new content is posted.  Thanks!