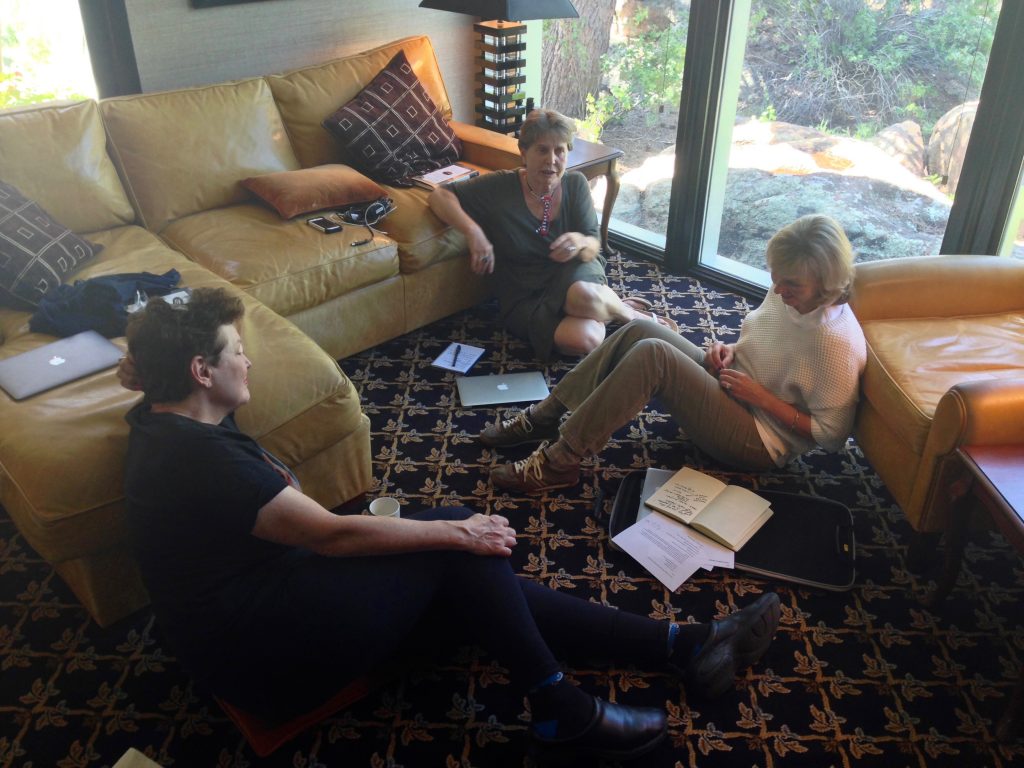 Are you familiar with Cynthia Leibrock's work on universal design and aging in place?
Perhaps you know of her award-wining books, one of which is "Beautiful Barrier-Free:  A Visual Guide to Accessibility and Beautiful Universal Design." The principal and founder of Easy Access to Health, Cindy's mission is to improve the lives of older and disabled people through design.
And she's done that for more than 30 years through her writing, speaking, teaching, and consulting. But five years ago, she retired. Well sort of.
How We Met
I first met Cindy in 1989 when we served on the Advisory Council for the Second Symposium on Health Care Interior Design (out of which grew The Center for Health Design). Her enthusiasm, energy, and passion for the healthcare design field were why The Center gave her the Changemaker Award in 2002.
We stayed in touch over the years. In 2009, I went to her ranch near Fort Collins, Col., where she and her husband Frank built a demonstration house that showcases more than 200 universal design concepts.
I recently caught up with Cindy by phone.
Her original vision for the house was to use it to get consumers interested in universal design concepts. But even though she got some national press, she wasn't seeing any change happening.
"I reached the conclusion that there will never be a consumer demand for universal design," she told me, particularly among seniors. "There's a high level of denial about aging. When people can't use their house any longer, they think they are pre-destined to go to a skilled nursing or assisted living facility. Why go through all the remodel then?"
And yet toileting and bathing are the two issues that drive people to assisted living or skilled nursing facilities. Both of which Cindy says can be easily addressed by design.
What To Do With the Demonstration House?
Determined to find a good use for her demonstration house, Cindy came up with the idea of inviting design school professors to the ranch for five-day workshops to learn and share ideas.
She partnered with IDEC and funded a scholarship program out of her own Rehabitat Fund. Up to four professors get a free all-expense paid workshop at the ranch two times a year. They are wined and dined, encouraged to share their knowledge in the relaxed atmosphere of the house (see photo above), and go on hikes in nearby Rocky Mountain National Park.
After they visit the ranch, Cindy then goes to each professor's institution, meets his/her colleagues and students, and gives lectures. The only other requirement for the workshop participants is that they incorporate universal design teaching into their curriculum.
"I'm working with 40 universities right now," she said, explaining that she's not trying to sell the professors and students that universal design is something they have to convince clients to do, but rather that it is the ethical thing to do. "If you design universally, you'll have a much better project."
And it's not just for senior living.  Cindy believes the ADA only puts in the basics for commercial projects. She advocates for universal design in all projects.
Although Cindy admits that it's pretty hard to measure how many students are going out into the field and designing universally, she's convinced she's now making a difference. "Students absolutely love the idea of universal design," she said.
Leaving a Design Legacy
Cindy travels about once a month to visit the professors and still teaches her summer course at Harvard University. But she is no longer on the speaker circuit -- something she was really good at and truly loved doing.
Obviously, for Cindy, retirement doesn't necessarily mean that she has to totally stop working. "Retirement just gives you more flexibility to do the things you want," she said.
She and Frank never had any children, so they have decided to leave the ranch to IDEC and direct the Rehabitat Fund to continue funding the workshops. There will also be enough money to hire houseparents, maintain the house, and continue to add new products and concepts as the field evolves.
How is that for a design legacy?
More About the Scholarship Program & Cindy
November 18 is the deadline for educators to apply for the Leibrock Universal Design Scholarship workshop. Up to eight individuals are selected by IDEC to receive $1,000 each. They have up to 18 months to attend a workshop.
Here's some other articles about Cindy and her work:
"Can We Truly Age in Place?" my blog post, May 17, 2013.
"A Colorado Home is Ready for Its Owner's Old Age," New York Times, February 18, 2009.
"Universal Design: Home for the Long Run," Denver Post, September 10, 2009.
P.S. Please do me a favor -- if you liked this post and like this blog, please share it with others by sending them the link or posting it on your Twitter, LinkedIn, or Facebook. Also, don't forget to subscribe, so you'll get emails when new content is posted. Thanks!