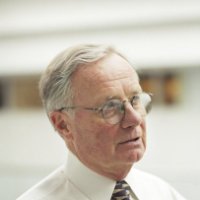 Healthcare Architect Derek Parker always sat quietly at The Center for Health Design's board meetings, purposefully doodling while listening to the others talk. At the end of the day, when he'd casually raise his hand to speak, everyone would immediately fall silent.
What he said usually brought clarity and purpose to the discussion. That's what good leaders and advisors do.
We Go Way Back
I first met Derek more than 25 years ago when he joined the Advisory Board for the National Symposium on Healthcare Design. That board eventually founded The Center for Health Design and Derek became the board chair.
Derek saw The Center through the rocky times when its President and Co-Founder Wayne Ruga left and no one was there to run the day-to-day business. He asked me to be The Center's Interim President and he and I worked closely to get things in order.
An early advocate for evidence-based design, Derek co-developed The Center's Pebble Project research initiative and created the research-based Fable Hospital concept that supports the business case for better buildings.
Derek was also Chairman of Anshen+Allen Architects, where he spent 49 years nurturing and mentoring other healthcare designers, as well as designing and planning more than 50 major hospitals and bio-medical facilities in 15 countries.
What He's Doing Now
I caught up recently with Derek, who spoke to me by telephone from his hilltop home in Tiburon, CA. At age 81, he seems happy and content, regularly solo captaining his sailboat on blustery San Francisco Bay, gardening, and cooking. "I never knew how to cook," he told me. "But I'm really enjoying it."
The advisory role is one that still suits Derek.
He serves on several boards, including Marin General Hospital, which he recently resigned after four years to make "space for younger folks." He's also on the Advisory Council of Care for Peace - Myanmar, an organization that builds mini-medical centers in that country.
And he's still providing counsel to Aditazz, a Silicon Valley start up firm that has invented a new approach to the design and construction of complex buildings. While it's yet to get much traction, Derek feels that the concept of melding architecture, engineering, construction, and computer science has great potential for healthcare buildings.
A True Changemaker
Derek's last public appearance was in 2012 at the Healthcare Design conference where he was interviewed by Leonard Berry for the Changemaker Award keynote presentation. Then, as now, he feels that the healthcare design industry has stalled.
"The best projects being done right now are roughly the same as 5-10 years ago," he said, acknowledging that we've come along way in the last 25 years. "But I don't see any signs of change."
Did the last real catalyst of change in the healthcare industry happen in 1988 when Wayne Ruga had the idea to bring together healthcare architects, designers, and administrators to talk about creating healing environments? Derek thinks so.
"There was nothing happening in healthcare design back then," he says. "Nobody else was talking about what Wayne was talking about."
Ironically, when Wayne came to Derek and told him about his idea for a new kind of conference, Derek's response was that the design industry didn't need any more meetings. But then he went to the First Symposium in Carlsbad, CA, along with 500 other like-minded individuals. "I was wrong," he said.
I doubt that Derek Parker has been wrong on very many things.
Want More Derek?
Who wouldn't? Check these out:
P.S.  Please do me a favor -- if you liked this post and like this blog, please share it with others by sending them the link and/or post it on your Twitter, LinkedIn, or Facebook, etc.  Also, don't forget to subscribe, so you'll get emails when new content is posted.  Thanks!