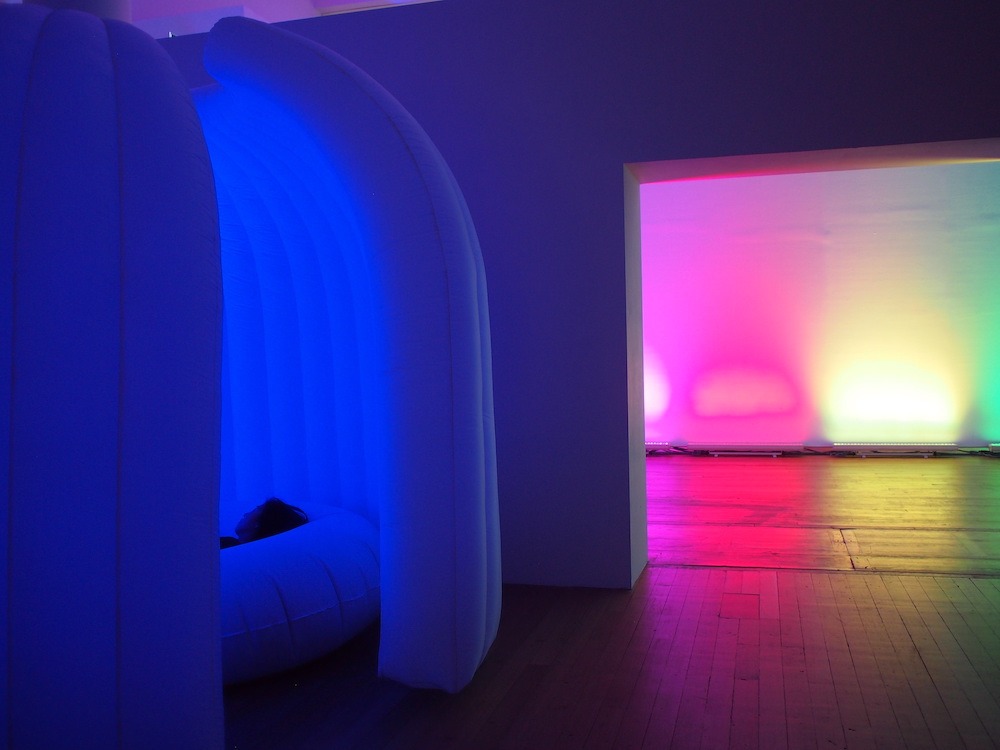 A few weeks ago, I got a dose of color therapy by taking a "color bath" at the Kimball showroom during NeoCon in Chicago.
Designed by neuroscientist and sensory designer Ari Peralta and his colleagues at MyCoocoon, the color bath is a video projection installation that uses light and sound to elevate the way we perceive color. The image above is an example of such an installation.
It's kind of hard to describe, but Kimball's color bath was in a small room with white walls, a few plants, and comfortable furniture. Three other people and I sat and watched the 10-minute "show" as it unfolded on the three walls in front of us.
I probably needed another 10 minutes to take away my NeoCon stress, but I think I felt a little more relaxed and happy after my color bath. Likely, the same effect can be achieved by watching The C.A.R.E. Channel's nature and music video programming (i.e., a "nature bath") but this dynamic use of color has many design applications.
Color is Perceptual
According to Ari, who was featured on Kimball's Alternative Design Podcast recently, color is light, but it is really perceptual. "Because of perception, we have different experiences," he said on the podcast.
Ari also believes that color is a "code" that each person carries and that the human body is a vessel of light that needs to be in balance.
For those reasons, it is possible to create customized color experiences in the places where we live, work, play, and heal that support health and wellness.
Color Therapy in Healthcare Environments
Since my focus is healthcare, I reached out to Ari and asked him what specific applications are there for color therapy for patients and staff in healthcare environments. When we spoke, he told me that color can be used in healthcare environments to create micro-interventions that stimulate healing.
This is possible because there is new technology that allows for the refraction of different colors in materials and surfaces. By using this technology, designers can personalize the color experience for each patient to achieve certain outcomes, like lowering heart rate and blood pressure or reducing the need for pain meds.
News flash:  Ari and his colleagues at MyCoocoon and Arigami are partnering with Kimball in a research project to explore how furniture could be leveraged to support personalized color experiences in commercial environments. Expect to hear more about this soon.
Ari also said that color baths could also be created for healthcare treatment areas, such as chemotherapy. In addition, I think they could be used to calm patients before surgery or to relieve staff stress.
The other interesting thing about all this is that virtual reality and augmented reality are providing new immersive experiences in which to perceive color. There's more about this on the podcast, but the metaverse is calling.
P.S. Please do me a favor -- if you liked this post and like this blog, please share it with others by sending them the link or posting it on your Twitter, LinkedIn, or Facebook. Also, don't forget to subscribe, so you'll get emails when new content is posted. Thanks!