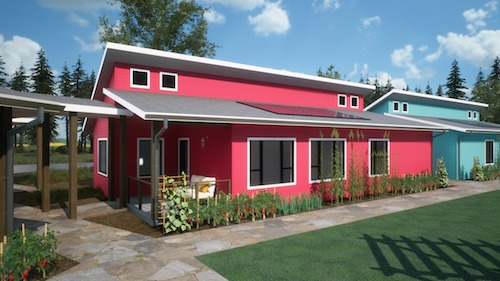 Ever hear of Cozy Home Communities for middle income housing?
I hadn't until its creator Matt Thornhill emailed me a few weeks ago.
As those of you in the senior living sector may know, Matt is the founder of The Boomer Project (now known as SIR's Institute for Tomorrow). You may have heard him speak at an industry conference, because he's an expert on what Boomers want and where they want to live as they age.
No One Serving Middle Income Market
Several years ago, a friend's death at age 58 made Matt realize that life was too short and he needed to start doing something different. Something to help seniors. From his consulting work with senior living providers, Matt knew no one was really serving the middle income market.
"There's a huge group in the middle that's not going to be prepared for this stage of life," Matt told me in a recent Zoom meeting. "They didn't save much money and don't have any resources. Where are they going to live?"
Indeed, where are they going to live?
Maybe in their homes, but Matt told me that these days two in five people between the ages of 55-74 do not have a spouse or partner.  That was news to me.
They might not have any kids either. Or their kids might live far away.
So living at home could be difficult. Not to mention lonely.
What is a Cozy Home Community?
And that's where Cozy Home Communities come in. Working with Deltec Homes, Matt's idea is to construct eight separate, independent two-bedroom, two-bath homes clustered in a colony on an acre of land. In the center is a Common House and maybe a playground or some garden space. Five of these make up a community.
The 1,200 sq. ft. rental homes are modular, use solar energy, and have universal design features, like wider doorways and low thresholds. Matt is also using some of Ingrid Fetell Lee's ideas about the aesthetics of joy to bring additional "life" to the homes.
That's why the homes are all brightly colored. And will have rounded shapes on the interiors.
Helping Each Other
But those are only the buildings. The core of this concept is that residents would be required to help each other. And organize their own activities.
Why the requirement? Well, studies have shown that people are more than willing to help each other, they are just reluctant to ask for help.
"Middle income seniors are going to have to live together in a community and take care of each other," said Matt. "Because there aren't any other options."
The target market is healthy 60-80 year olds. Because although healthcare services could be brought in, that really isn't central to the model.
But here's the thing. Those most interested in the Cozy Home Community concept so far are nonprofit, faith-based senior living providers that have land. So they may be able to offer Cozy residents healthcare options.
Matt envisions telehealth as a major game-changer that will allow seniors to stay independent longer. And he's also exploring the idea of providing a part-time "care navigator" for Cozy residents.
Positive Reactions to Middle Income Housing Model
So far, no Cozy Home Communities have been built yet. Matt was talking with lots of nonprofit providers earlier in the year, but the conversations pretty much stopped around March 15 when the pandemic hit. There is one that is moving forward, though.
I told Matt I could see myself living in a Cozy Home Community.
"You're about the 50th person who's told me that," he said, adding that he could do an upscale version that would appeal to higher-income people like me in their 60s and 70s. Or a version that would work for young adults who live in expensive real estate markets and can't afford to buy a home.
But right now, Matt is just taking it one step at a time and focusing on the area with the most need. And that just seems right.
Having been a successful marketer, consultant, and speaker, Matt clearly isn't in this for the money.  He'd be happy if he gets one or two communities built in the next couple of years.
"This is a calling," he told me. "A greater force is pushing me along."
>>More about the "why" behind Cozy Home Communities
>>More about the aesthetics of joy
P.S. Please do me a favor -- if you liked this post and like this blog, please share it with others by sending them the link or posting it on your Twitter, LinkedIn, or Facebook. Also, don't forget to subscribe, so you'll get emails when new content is posted. Thanks!