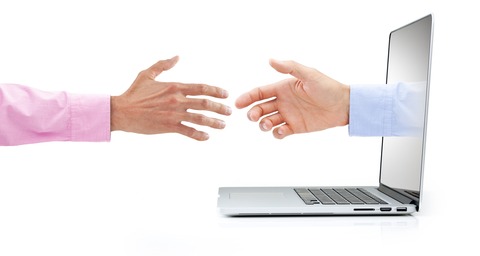 I've been thinking a lot about digital lead generation and nurturing lately.
For any company or organization that sells a product or service, it's what's hot right now.
What is digital lead generation and nurturing?  It's the "process of stimulating and capturing interest in a product or service through online and social media marketing techniques for the purpose of developing a sales pipeline."
Typical old school lead generation strategies are:
Conference exhibits
Website inquires
Mining databases and cold-calling
All of these require manual email and/or telephone follow-up (the nurturing part).
But the buying process has changed. The focus has shifted from you finding customers/clients to them finding you.
Trouble is, there's a lot of noise, because we're in an era of information abundance. People are getting better at ignoring messages and doing their own research.
So, you need to keep finding new ways to reach customers/clients and get heard through the noise.
Forrester Research reports that customers/clients can be as much as 60-90% of the way through their buying journey before they speak to anyone. That's why building a strong digital presence is important. Even if what you're selling is a service rather than a product.
Many healthcare design firms, product manufacturers, and nonprofit organizations do a good job at generating leads, but the problem is that most prospects aren't ready to buy whatever you're are selling yet. Digital lead generation builds trust and captures the interest of the buyer. It makes the process easier and turns leads into customers/clients faster.
Email Marketing is King
According to a survey by Ascend2, email marketing is the most effective digital tactic to generate leads. It's closely followed by website and/or landing pages and content marketing. Search engine optimization, social media marketing, webinars, and paid search or online advertising round out the group.
The two things that are essential to the success of digital lead generation programs are 1) integration of customer relationship management (CRM) and email marketing tools, and 2) great content.
With a CRM tied closely with email marketing, you can capture contact information from new prospects when they hit the your website for the first time. Then, you can automatically nurture these prospects with email over time, educating them about their pain-points and your solution.
Gain Trust with Great Content
From email to social, content is the fuel for marketing campaigns. By creating high quality content, you can gain people's trust and start breaking through the noise. Access to great content can also be the incentive that gets a person to give you his/her contact information.
Think about it. You do this all the time when you're searching for information.
What is great content? If you're trying to position your company or organization as a thought-leader, great content has these one or more of these qualities:
Relevance -- addresses a burning issue.
Novelty -- has a fundamental new way to solve a problem.
Validity -- proves a solution works through real examples of individuals/organizations who have used it with measurable benefits.
Last Word
Although many large corporations use digital lead generation and nurturing, it is also ideal for smaller companies/organizations with limited sales and marketing staffs. Why?  Because it frees up staff to spend less time cold-calling and more time building relationships with qualified prospects.
Plus, automated processes free up marketing staff to spend less time manually setting things up.
And, for those who have a product/service that requires customer/client on boarding, digital nurturing offers the same benefits.
What do you think?  Is this relevant to your business?
P.S.  Please do me a favor -- if you liked this post and like this blog, please share it with others by sending them the link and/or post it on your Twitter, LinkedIn, or Facebook, etc.  Also, don't forget to subscribe, so you'll get emails when new content is posted.  Thanks!