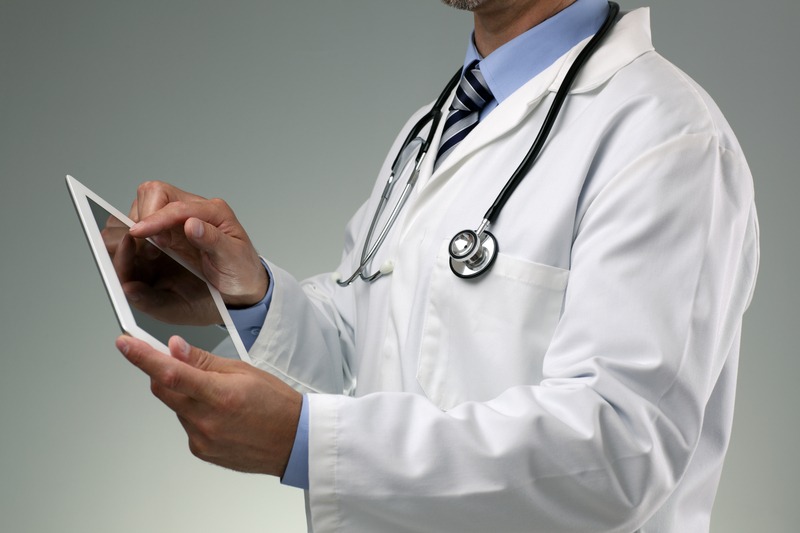 "There is no industry that has not been turned upside down after digitization."
That's what Robert Wachter, MD, Professor and Chair, Department of Medicine at UCSF, and author of "The Digital Doctor" said at the VirtualMed conference a few months ago.
Digitization changed how we do our banking.  It changed how we shop for things.  Where we stay when we go on trips or vacations. How we get from Point A to Point B in our cities and towns.
And now we have the digitization of healthcare.
EHRs Now Standard
The digitization of healthcare is one of the five trends influencing healthcare facility design that I'm going to talk about during my presentation at Neocon next month. Here is what's happening.
American hospitals have moved from paper to electronic health records (EHRs). Most also have patient portals that allow patients to access their records, make appointments, and get information.
And soon, there will be an app that you can use to access your medical records.  Apple recently announced an updated Health Records section within its Health app that makes it easy to see available medical data from multiple providers.
Johns Hopkins Medicine, Cedars-Sinai, Penn Medicine, and 10 other hospitals and clinics are beta testing this app now with their patients.
Augmented reality apps, wearables, and mobile devices are also being used for patient care, diagnosis, and patient self-monitoring.
On the clinical side, someday computer terminals in exam rooms may be obsolete, as physicians start using AR glasses to view medical records and record patient information. Instead of looking at the computer screen, they'll be looking at the patient, while the AR device sends what they hear and see to a remote scribe.
The chief digital officer is the latest addition to the C-Suite -- tasked with getting everyone to get into a digital mindset and engage patients using these new technologies.
Much Harder Than It Looks
But people like Dr. Wachter are concerned that all this digitization, particularly the use of the computer, takes the clinician's focus away from the patient. He also said, "If we don't think about the workflow created by data, we are going to get it wrong."
And he told an interesting story about the demise of radiology rounds in one hospital after the films when digital.
Clinicians could view the films anywhere. They didn't need to go to Radiology anymore to see their films and talk to the radiologist. "We lost something very important in that clinical exchange," he said.
Dr. Wachter thinks that we're in the early phases of something that will ultimately be quite wonderful, but that it's much harder than it looks to make it work right.
Impact on Healthcare Facility Design
It's hard to say how digitization will affect healthcare facility design, but I know it will.  If more people use apps to diagnose their conditions and make virtual appointments with their doctor, then the size, layout, and design of clinics and offices could change.
If doctors and medical students don't need to go to Radiology anymore to see their films, then do we need Radiology departments?  Couldn't the radiologist work remotely?
If putting on virtual reality glasses and immersing themselves in a 3-D world can take patients minds off their pain, will we someday have entire rooms that can do this? I'm thinking Holodeck here.
I wrote about the futuristic predictions of John Huddy for the Emergency Department -- one where human interaction leads and technology supports. His "ED Vision 2080" looks very different than our Emergency Departments of today.
Most likely, as Dr. Wachter predicts, all of this will happen very slowly. But as patients use technology to get more engaged in their healthcare, it will most surely change how and where healthcare is delivered.
Come to My Presentation
If you're planning to be at Neocon, please come to my presentation on Monday, June 11 at 4 p.m. But you'll need to register. Hope to see you there!
P.S. Please do me a favor -- if you liked this post and like this blog, please share it with others by sending them the link or posting it on your Twitter, LinkedIn, or Facebook. Also, don't forget to subscribe, so you'll get emails when new content is posted. Thanks!