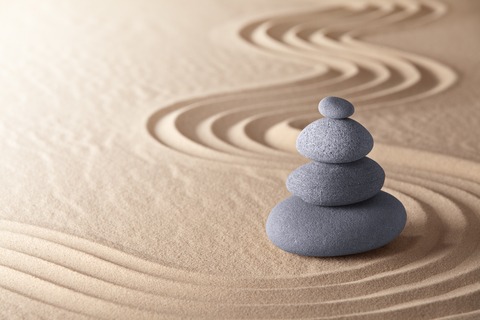 Ever hear of a "Zen Den"?
I hadn't until I read this statement in Modern Healthcare by Ann Marie Leichman, Chief Nursing Officer, Valley Hospital in Ridgewood, NJ, on how they are handling nurse burnout:
We have created an environment here where the message is, "You need to take care of yourself before you can take care of somebody else." So we have things called Zen Dens, which are respite rooms where nurses can go for a break.  We bring (massage opportunities) up to the units.  We try to encourage staff to take care of themselves in order to avoid stress and burnout, and I think some of the things that we do have helped staff understand the connection between caring for self and caring for others.
Then I googled "zen den." I found coffee shops, yoga studios, and a crowdfunding page some nurses at Jacobs Medical Center in LaJolla, Calif., had created to raise money for things they need to equip their Zen Den.
Zen Den Needs and Wants
The space has already been painted a soft yellow and has calming lights on a dimmer switch, an underwater mural, and some furniture. The nurses' wish list includes:
Three zero-gravity meditation/nap chairs
Three alphasonic massage chairs
Three meditation cushions
Eight headphones
Six throw blankets
Flameless candles
Two yoga mats
Artwork (photos and inspirational words)
Shoe rack for infection prevention
Two low table storage units
One Himalayan salt lamp
One mirror
One feng shui table fountain
Two air plants
One yoga posture poster
One custom fluorescent sign
Providing places of respite for staff isn't a new idea. But the idea that nurses might actually use them may be new. Nurses often don't leave their unit during their shifts.
Culture Shift
Not taking a break is a culture thing -- just like not taking a vacation is in many companies.
When I worked as an editor for Contract magazine at Gralla Publications in New York City in the 1980s, there was one editor there who worked long hours and hadn't taken a vacation in like 20 years. She wore it like a badge of honor.
But I always wondered how well she was really functioning at her job.  Everyone needs a break from work.
Especially nurses.  So, if the hospital culture allows this "no respite" kind of thinking, then nurses won't take breaks.
However, with the increasing focus on finding ways to reduce nurse burnout, Zen Dens could be popping up in hospitals around the country. And maybe nurses won't have to crowdfund to get the kind of spaces they deserve.
Wouldn't that be nice?
P.S. Please do me a favor -- if you liked this post and like this blog, please share it with others by sending them the link or posting it on your Twitter, LinkedIn, or Facebook. Also, don't forget to subscribe, so you'll get emails when new content is posted. Thanks!