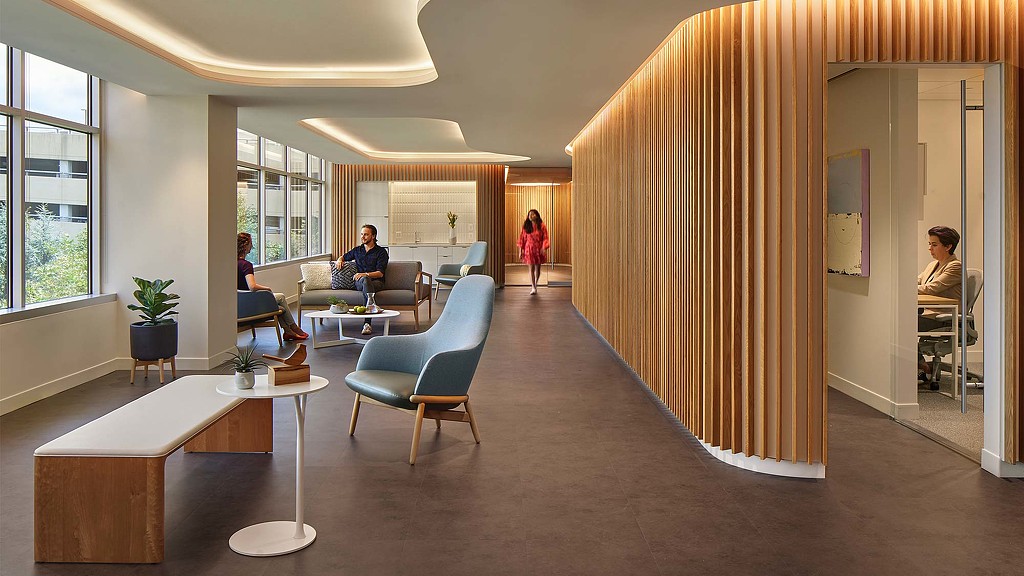 With $545 million in design fees in 2021, Gensler once again is number one on Interior Design's Top 100 Giants in 2022 -- a spot it has held for the past 42 years.
Yep, you read it right. Forty-two years. Doubt that Art Gensler ever envisioned that when he started the firm in 1965.
Sadly, Art passed away in 2021 at the age of 85. Interior Design's Edie Cohen wrote a great tribute to him in December 2021.
While the majority of its annual design fees ($341 million in 2021) have always come from office design, Gensler has always been a multi-disciplinary firm. Its healthcare design fees last year were a little over $50 million, placing the firm fourth behind HDR, CannonDesign, and Perkins&Will.
Gensler's Unique Perspective
Because of its size, Gensler works with a cross-section of the world's economy. So, collectively, the firm's leaders have a unique perspective on the issues driving change across all market sectors.
Which is why I always look forward to Gensler's annual Design Forecast. I can hardly summarize this year's 177-page report in this short blog post, but I love what Co-CEOs Diane Hoskins and Andy Cohen wrote about resiliency in the the first paragraph of the introduction on page 4:
After almost two years of pandemic-infused stops and starts, we're seeing you, our clients, usher in a new era with a new kind of resilience. We're witnessing optimistic investments and plans to define the future of buildings and places with projects that respond to the new way that people work and live and that reflect the most influential issues we're facing today in climate change, inclusion, and community. This optimism is happening in spite of the pandemic, not because we've gotten past it.
Healthcare & Senior Living Trends
Skipping to page 154 of the report, Gensler identifies these trends in healthcare that are driving design strategies:
Evolution of clinical technologies will decentralize care.
Now is the time to build resilient systems to withstand climate change.
Research will drive changes in healthcare experience design.
Telehealth is here to stay, but in-person interactions will define the industry's future.
The lines between physical and digital healthcare delivery will continue to blur, requiring flexible space.
And then on page 166, these trends in senior living that are driving design strategies:
Housing for older adults can foster meaningful connections to urban life.
Mixed-use, mixed-income, and multigenerational lifestyle developments are emerging as new models.
Designing elevated experiences for caregivers is a big opportunity.
Gerontechnology will extend aging-in-place.
Wellness models for active adults are replacing one-size-fits-all care models.
Not sure I like the term "gerontechnology," which Gensler defines as the integration of technology for health, housing, communication, leisure, and work for older adults. Why segment something that most adults utilize into a label for seniors?
But I think Gensler is spot on about these trends. And resiliency is at the core of everything.
Because, as author and businesswoman Adrianna Huffington wrote last year, being resilient is "what allows us not just to bounce back; but to move forward."
P.S. Please do me a favor -- if you liked this post and like this blog, please share it with others by sending them the link or posting it on your Twitter, LinkedIn, or Facebook. Also, don't forget to subscribe, so you'll get emails when new content is posted. Thanks!
Photo:  Bill Richards Center for Healing at Aquilino Cancer Center, designed by Gensler.