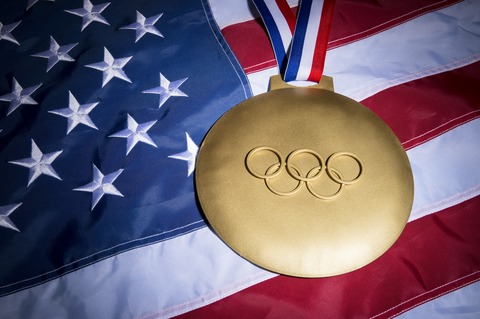 The news from the 2018 Winter Olympics in PyeongChang this week:  Norway leads the medal count, the U.S. women's hockey team takes the gold, a Russian curler has been accused of doping, and a French ice dancer had a wardrobe malfunction. Oh, and Mr. T is live-tweeting the events ("I pity the fool who doesn't like curling!").
Every four years we get to celebrate our winter athletes and watch obscure sporting events like curling and skeleton. But what does this have to do with healthcare design?
Nothing, really.  But it did get me thinking again about the gold medal "performances" that have happened recently in U.S. healthcare design.  Here are 7 that are worthy of standing on the top spot on the podium, in no particular order:
1. Shirley Ryan Ability Lab, Chicago, Ill
A replacement facility for the Rehabilitation Institute (RIC) this is a rehab hospital unlike no other — in both design and medical practice. Designed by HDR Architecture, Gensler, and Clive Wilkinson Architects, the project opened in March 2017.  America's best rehab hospital just got better.
An Olympic salute to a visionary CEO/board and the project team that made their design dreams come true. More>>>
2. 2018 FGI Guidelines for Design & Construction
For the first time ever, the Facility Guidelines Institute (FGI) Guidelines are available in electronic format through MADCAD, an online subscription-based platform that supports compliance with U.S. building codes and standards. The other thing that is new is that the 2018 standards are split into two parts: Fundamental Requirements and Beyond Fundamentals.
An Olympic salute to the FGI staff and the hundreds of volunteers who worked on this edition. More>>>
3. The Cottage at Cypress Cove, Ft. Meyers, Fla.
Designed by SFCS Architects and GMK Associates, this memory care assisted living residence in for people with Alzheimer's disease and other dementia-related conditions has a unique tunable circadian lighting system, among other things. A satellite real time/place solar connection in the system changes the lighting with the cycle of the day. The rest of the project is just as thoughtfully designed.
An Olympic salute to the team whose great ideas earned The Cottage an Award of Merit in the 2017 EFA Design Showcase. More>>>
4. Gensler Experience Index
What makes a space great?  And how do you measure the human experience?  These were questions addressed by a multi-year research effort by Gensler. The team's insights are shared freely and openly on the company website, including five distinct categories, or "modes," of experience. Doesn't all apply to healthcare, but great stuff nonetheless.
An Olympic salute to the researchers and the firm's leaders for sharing their findings with everyone. More>>>
5. CHUM, Montreal, Quebec, Canada
Okay, I know Montreal is not in the U.S. but this project was designed by the U.S. firm CannonDesign and Canada's NEUF Architects.  The Centre hospitalier de l'Universite de Montreal — or CHUM as it's called up there finally opened last year.
At 3 million sq. ft., CHUM is the largest hospital in the world built on an urban site. The new CHUM replaces three outdated hospitals in Montreal. It's got a Metro line running underneath it and is walkable from the neighboring community.
An Olympic salute to the huge team that planned, design, and built this huge hospital. More>>>
6. CHD's Healthcare at Home Design Insights & Strategies Tool
Is the patient room of the future your bedroom?  Maybe. The latest in The Center for Health Design's (CHD) portfolio of interactive patient room diagrams offers 14 categories of design strategies for creating the optimal patient room at home. It's not surprising that many of these design strategies come from best practices for hospital patient rooms and senior living resident rooms.
An Olympic salute to the Donghia Foundation for funding this project and BSA LifeStructures for providing the renderings. More>>>
7. Lucile Packard Children's Hospital Stanford, Palo Alto, Calif.
This project, designed by Perkins+Will in association with HGA was more than 10 years in the making. And while I've only seen pictures of the new hospital (which opened in December 2017), it looks like it has more than achieved what Architect magazine calls "a new standard of sustainable and family-centered design in healthcare."
An Olympic salute to the team that has raised the bar for all of us. More>>>
Who/what else in healthcare design do you think deserves a gold medal this year? Share in the comment box below.
P.S. Please do me a favor -- if you liked this post and like this blog, please share it with others by sending them the link or posting it on your Twitter, LinkedIn, or Facebook. Also, don't forget to subscribe, so you'll get emails when new content is posted. Thanks!