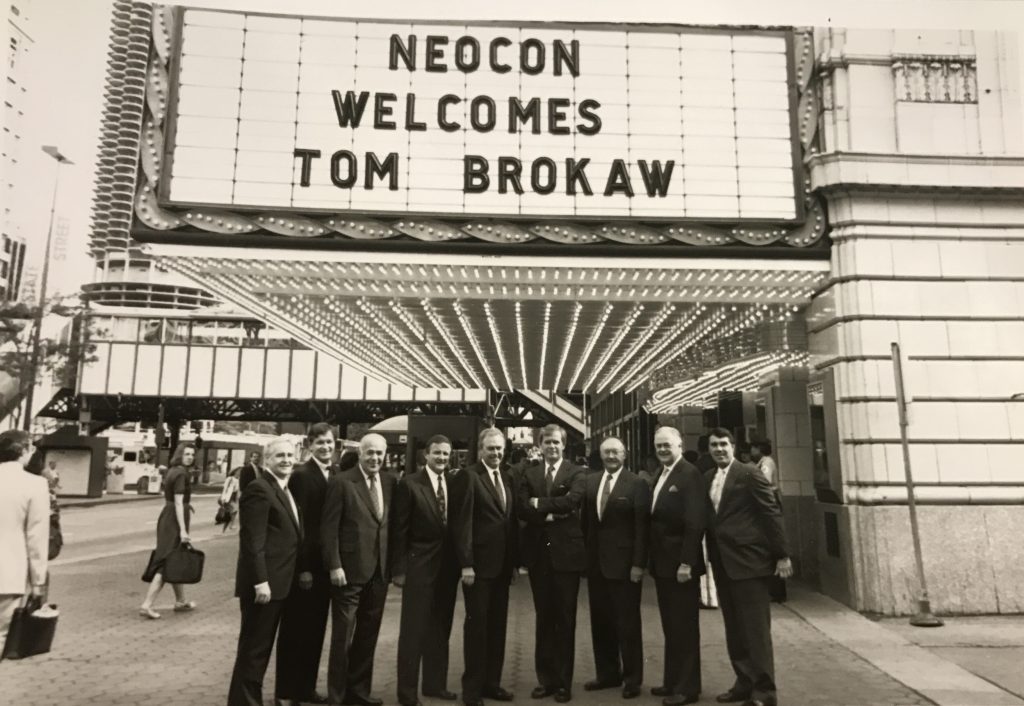 Can you believe it? The National Exposition of Contract Furniture is 50 years old this year.
And it's hard for me to believe that I've attended 35 NeoCons. Yep, when I graduated from college, I worked NeoCon 13 in my first job as a communications coordinator for The Merchandise Mart in Chicago in 1982.
So bear with me as I take you on a trip down memory lane.
My Early Years at NeoCon
Working for The Mart, I helped promote NeoCon, worked with tenants to attract attendees to their showrooms, and assisted in the planning and production of educational programs and special events at the show.
I got to meet some pretty impressive people.
Finnish architect and wife of the late Alvar Aalto, Elissa Makimiemi Aalto, was one of the keynote speakers at my first NeoCon, along with urban planning legend Edmund N. Bacon.
Architects Paolo Portoghesi and Arata Isozaki also spoke.
But the real stars of NeoCon were, and always have been, the products and the showrooms that house them. In 1982, NeoCon's focus was totally on office furniture, furnishings, floorcovering, and accessories.
There was no healthcare and only a hint of hospitality, retail, and institutional.
Permanent Showrooms Were the Thing
It was also before the consolidation of the contract furniture industry, so there were permanent showrooms on floors 8, 9, 10, and 11. An entire floor (18) was devoted to floorcovering.
Several starchitects designed showrooms in The Mart that were unveiled at NeoCon during the time I worked there. In 1982, the New York Times described the E.F. Hauserman showroom designed by Isozaki as a "complex, and poetic environment."
Michael Graves introduced his new fabrics in the Sunar showroom that he designed. Robert A.M. Stern combined "the pale colors and architectural detailing of postmodernism with the feeling of a turn-of-the-century office interior" for Shaw/Walker.
Lella and Massimo Vignelli also designed the ItalCenter for a consortium of Italian furniture manufacturers that exhibited that year.
Showrooms on the residential floors of 6, 12, 16, and 17 that had products appropriate for high-end offices also participated in NeoCon.
With more than 2.2 million square feet of showroom space, NeoCon was, truly the largest contract furniture show in the world under one roof.
Back at Neocon as a Reporter
I only worked for The Mart for a few years, following my fiancée to New Jersey to get married in February 1984. I re-appeared at NeoCon as an editor for Contract magazine that June.
My job at NeoCon had changed from promoter and producer to a reporter who covered the show. I was assigned showrooms to visit and events to attend, with the sole purpose of introducing myself to the company president and getting the low-down on what was new.
And there were always lots of new products at NeoCon. More than I could possibly write about. I covered color trends for Contract. In 1989, I wrote:
"Purple, in bright hues with deep chromas, was the color sensation of NEOCON 21. It was used in complex jacquard weaves; monochromic solids; tapestries; and even as a theatrical backdrop to furniture displays. Brayton International's ninth floor showroom was hard to miss with its bright purple upholstered chairs, deep eggplant divider walls, and violet glow cast by neon light on glossy white walls."
Now Those Were Parties
Early NeoCon-goers will tell you there were lots of lavish parties and big events in the 1980s. We editors were invited to all of them.
Fixtures Furniture rented out the Holiday Inn Mart Plaza (HIMP) ballroom every year, providing free drinks and substantial food for thousands of people. And I believe it was DuPont that brought Gladys Knight to perform in the HIMP sky atrium lobby in 1983 or 1984.
People were hanging off the balconies to get a glimpse of the "Empress of Soul."
A few years later, Tom Brokaw made an appearance at NeoCon 20. For NeoCon 22, Knoll International brought in Jay Leno to do a private performance at the Chicago Theatre for 3,000 attendees.
For many years, KI hosted an early morning "Fun Run" on the lakefront. Who thought that running a few miles before spending eight hours standing in a showroom or walking the floors of The Mart was a good idea?  But it was fun.
Ah, the good old days.
The Big Three Embrace Healthcare
Over the years, healthcare products started to emerge at NeoCon. It was especially interesting to watch how the big three office furniture manufacturers -- Steelcase, Herman Miller, and Haworth began embracing this sector.
By the time Steelcase formed a Health Design Division under Brayton International in 1992, I was a consultant for The Center for Health Design.
But it wasn't until the company launched Nurture (now known as Steelcase Health) and started researching and designing products specifically for healthcare that it seemed like the real deal. Nurture's 3rd floor showroom made its debut at NeoCon in 2006.
Herman Miller had quietly been dipping its toe in the healthcare waters for awhile -- forming Milcare in 1971, renaming it Herman Miller for Healthcare in 1999. For years, these products were buried within the main Herman Miller showroom.
After purchasing Brandrud and Nemschoff in 2008 and 2009, Herman Miller Healthcare opened a showroom on the 3rd floor in 2010.
Haworth also jumped into the healthcare arena, acquiring the Legacy Furniture Group in 2013 and renaming it Haworth Health Environments, moving into a 3rd floor showroom in 2015.
In the meantime, The Mart had re-configured floors 7 and 8 as temporary exhibit space and more healthcare product manufacturers began to exhibit at NeoCon.
At some point, The Mart consolidated all the temporary healthcare booths on 7 and 8 into a healthcare pavilion, which made finding them all much easier. But that idea was disbanded a few years ago.
Healthcare is Everywhere Now
Today, as you walk the permanent contract showroom floors of 3, 10, and 11, you see an abundance of healthcare furniture, fabrics, flooring, and other products suitable for healthcare environments. Many other healthcare product manufacturers continue to exhibit on 7 and 8.
Now I go to NeoCon every year to see what's new and network. I visit the healthcare product manufacturers' showrooms first and, if I have time, I also go to some of the bigger office furniture manufacturers' showrooms.
Over the years, NeoCon has changed, The Mart has changed, and I've changed. But I still get that giddy sense of excitement and anticipation as I walk into the lobby Monday morning on opening day of NeoCon.
Some things never change.
Won't You Join Me at NeoCon?
I'm speaking at NeoCon this year.  Not my first time, but it's been a few years.
Please join me to hear about "Five Trends Influencing the Next 10 Years of Healthcare Facility Design" on Monday, June 11 at 4 p.m. And check out the other nine presentations on healthcare design at this year's NeoCon.
Oh, and if you're planning to attend NeoCon, save yourself $40 and register before you get there! And check out my tips for working NeoCon.
P.S. Please do me a favor -- if you liked this post and like this blog, please share it with others by sending them the link or posting it on your Twitter, LinkedIn, or Facebook. Also, don't forget to subscribe, so you'll get emails when new content is posted. Thanks!