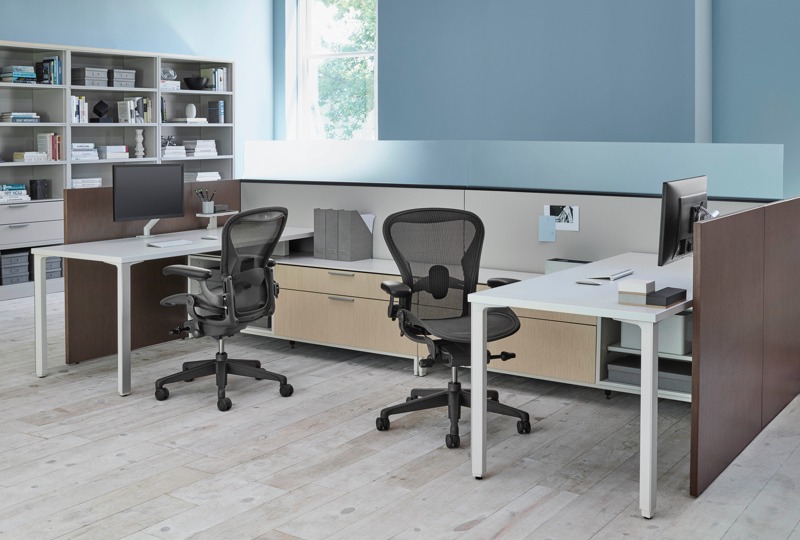 I spent most of my one day at NeoCon at The Merchandise Mart in Chicago this week looking at healthcare furniture.  But I did go into a couple of the big office furniture manufacturer's showrooms.
What I saw there was a big emphasis on collaborative space. As Tamas Kovacs, Steelecase's Regional Sales Director in Central Europe explained it, many office workers are going to be replaced by artificial intelligence in the future.
But what won't be replaced is the need for creativity.  Which is why the big office furniture manufacturers like Steelcase, Herman Miller, and Haworth are focusing on spaces for collaboration and creativity.
This has applications for healthcare.
After all, a lot of office work is done in healthcare settings. Creative problem solving is what healthcare professionals do every day in treating their patients.
Smart Office Furniture
The other thing I saw in those showrooms was smart office furniture.  Herman Miller introduced Live OS, a system of cloud-connected furnishings, app, and dashboard.
The way it works is that sensors on all connected work surfaces (chairs, desktops) capture space utilization data. People use the Live app to set preferences and activity goals. A dashboard gives real-time data analysis and insights into improving workplace performance.
A Fitbit for your chair, no less!
Steelcase has partnered with Microsoft to develop Creative Spaces, an immersive ecosystem that brings together space and technology to help people generate new ideas and move them forward. While more focused on planning for integrated technologies and choices for where and how to work, the company is also experimenting with sensor technology in conference rooms to measure usage.
Technology in Healthcare Furniture
Steelcase and Herman Miller both have healthcare companies, and the people I spoke with at each told me they are looking at designing smart healthcare furniture.
Sensor technology could be used to measure heart rate, blood pressure, and activity of patients (sleep patterns, getting out of bed/chair), which could then inform staff of changes that might need their attention. Or what about in waiting areas? Staff could be sent real-time data on how long a person has been waiting
Or what about in waiting areas? Staff could be sent real-time data on how long a patient has been waiting and take pro-active action to improve that person's experience.
Who's Gonna Pay?
The question is, would the healthcare industry pay for sensor technology in furniture?  Or flooring?
The answer is, probably, if there is data on outcomes to support the ROI. But we are a long way from that.
Another way technology could be used in healthcare furniture is the integration of screens for viewing educational or relaxation videos. I'm thinking of recliners in ED results waiting or dialysis treatment areas.
What else do you think the healthcare design can learn from office design?
Photo Credit:  Herman Miller
P.S. Please do me a favor -- if you liked this post and like this blog, please share it with others by sending them the link or posting it on your Twitter, LinkedIn, or Facebook. Also, don't forget to subscribe, so you'll get emails when new content is posted. Thanks!