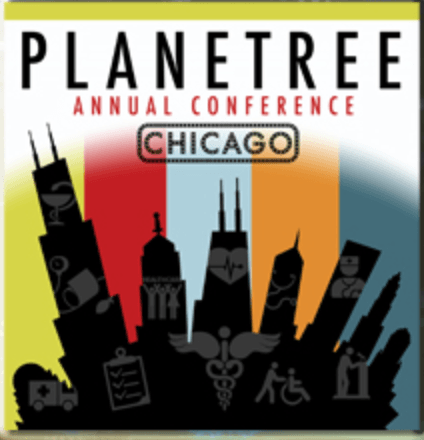 I heard a lot of really interesting things at the Planetree International Conference on Patient-Centered Care this week. Most of weren't about healthcare design.  And yet they were all about healthcare design.
There were the usual powerful stories from people telling about their experiences as patients or caring for a loved one with an illness. We were reminded by Tiffany Christensen, Beverly McIver, and Grant Korgan that patients see and hear everything - even if they are in a coma or on serious pain meds.
And then there was a call from keynote speaker Alexandra Drane, co-founder of Eliza Corporation, a leading provider of integrated healthcare communication strategies. Drawing on a database of more than a billion interactions with individuals about their health, Drane has come to the conclusion that the definition of health needs to be broadened to include life challenges.
"When life goes bad, health goes bad," she said.
Makes sense, doesn't it?  When you're stressed out at work, struggling in a relationship, or having financial difficulties, you might eat foods that are bad for you or drink too much. Put off that colonoscopy because you just don't want to deal with it.
Drane's answer is for healthcare providers to not only help patients manage their overall health and chronic diseases, but to also help them manage their life by pointing them to resources that may already be at their fingertips, like Employee Assistance Programs.
"Empathy is the single biggest missing ingredient in the healthcare space," she said.  We've heard that before.
Technologies That Will Change Healthcare
Evolutionary Biologist Rebecca Costa's understanding that failure to adapt results in extinction made for another memorable keynote. "I don't like the word 'disruptive,'" she said. "Disruptive is an admission that transition has failed."
Confronting how the rapid pace of change in every aspect of our lives has outstripped our brain's ability to cope, Costa also cited these 8 technologies that will change healthcare:
Data visualization software
Social media
Mobile apps
Facial recognition software
Nanobots
Holograms
Drones
3-D printing
I'm not sure social media is a technology, but how it's delivered involves technology.  Anyway, Costa also spoke about the notion of a system - like healthcare - collapsing. She doesn't think that's a bad thing. "Collapse just means a sudden reversion to a simpler system."
Adapt and Change or Be Extinct
What can healthcare designers take away from all this?
Well, there's lots of implications for technology.  And clearly, those healthcare designers (and their clients) that don't adapt and change will eventually be extinct.
Designing for empathy is, in a way, what we've been talking about since the Planetree movement started in 1978.
And one more thing:  Thanks to Herman Miller/Nemshoff, Steelcase Health, and Tarkett for sponsoring these amazing speakers. Without them, and the support of other sponsors, this conference wouldn't have been as terrific as it was.
P.S.  Please do me a favor -- if you liked this post and like this blog, please share it with others by sending them the link and/or post it on your Twitter, LinkedIn, or Facebook, etc.  Also, don't forget to subscribe, so you'll get emails when new content is posted.  Thanks!