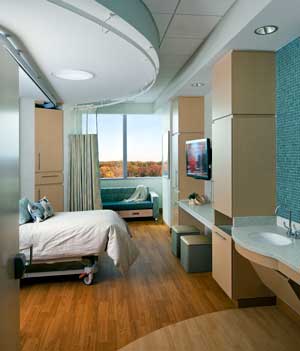 I'm going to get up on my soapbox again because another mainstream media journalist did not do her homework in writing a story about design.
Chicago-based journalist Hilary Gowins' Huffington Post piece last month basically slammed the interior design profession for requiring licensure in 26 states, the District of Columbia, and Puerto Rico.
Calling the nature of interior design "innocuous" because it focuses primarily on style, design, and aesthetics, Gowins completely missed the fact that there's a difference between an interior decorator and an interior designer.
And boy, did she anger a community of designers. Their comments on her post truly point out her ridiculous assumptions.
Can Anyone Call Themselves an Interior Designer?
What's surprising to me was the comment that "by law, anyone can call themselves an interior designer." I don't know if that's true, but it's rather scary for healthcare if it is.
Because healthcare interior designers don't just focus on style, design, and aesthetics.  They, along with other members of the design team, are responsible for making decisions that can affect public safety and welfare.
Like the placement of sinks to cue hand washing, as illustrated in the hospital room above. Or surfaces that are easily cleanable to help with infection control. Non-slip flooring to prevent falls. And much more.
Credentials Matter
That's why it's important for the profession to be licensed and for interior designers working in healthcare to obtain credentials from organizations like the American Academy of Healthcare Interior Designers and The Center for Health Design to further qualify their expertise.
If you're a homeowner and want help choosing colors to paint your walls or new pillows for your sofa, you probably don't need to hire a licensed interior designer.
But, if you're a healthcare organization looking to build or renovate a hospital or clinic, make sure all the design professionals (architects, too) you hire have solid healthcare design experience and the qualifications to help prove it.
It's really a no-brainer.
Photo courtesy of HDR; © Ari Burling.
P.S.  Please do me a favor -- if you liked this post and like this blog, please share it with others by sending them the link and/or post it on your Twitter, LinkedIn, or Facebook, etc.  Also, don't forget to subscribe, so you'll get emails when new content is posted.  Thanks!