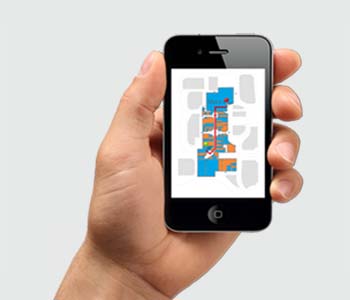 Would you get in your car and drive someplace you've never been before without getting directions?  Of course not. You'd look it up on Google Maps on your computer or smart phone, or plug it into your Garmin.
Healthcare facilities, particularly those situated on large campuses, are inherently suited for this type of wayfinding technology, and it is increasingly becoming part of the patient experience.
According to Philip Murphy of GNU Group, a signage and wayfinding company that works with a lot of hospitals, getting lost is one of the biggest complaints of patients and visitors.
In a recently published whitepaper, Murphy says that the solution to better wayfinding in hospitals is a different approach to language, using a technique called Progressive Disclosure. This method, which is used in airport signage, only gives the information needed to move you to the next decision point.
Murphy's company has come up with a simpler treatment for signage that supports Progressive Disclosure by labeling prime destinations alpha-numerically. It can be used on signage, website directions, and smart phone apps.
Healthcare is following the airline and banking industries in it's adoption of technology for many things besides wayfinding.  When was the last time you picked up the phone to make an airline reservation?  Or handed a check to a bank teller to deposit? Soon, you'll be doing many things online or from your computer when planning your hospital or clinic visit.
Are people are going to use their smart phone to find their way around an unfamiliar hospital instead of asking a person sitting at a desk? Many will, some won't -- just like some (my husband) still prefer to stop at a gas station to ask for directions when they are lost  instead of searching for their way on a device.  We have to get comfortable with the technology and learn to trust it.
Electronic wayfinding that's integrated with more traditional tools like signage and design landmarks is how we are going to navigate hospitals -- particularly as more and more of us make our appointments online instead of picking up the telephone. It's already happening in many hospitals across the country. And imagine the wayfinding applications of a device like Google Glass.
Technology will not eliminate the need for an information desk in the lobby.  After all, positive human interaction is, and always will be, part of the patient experience.
P.S.  Please do me a favor -- if you liked this post and like this blog, please share it with others by sending them the link and/or post it on your Twitter, LinkedIn, or Facebook, etc.  Also, don't forget to subscribe, so you'll get emails when new content is posted.  Thanks!