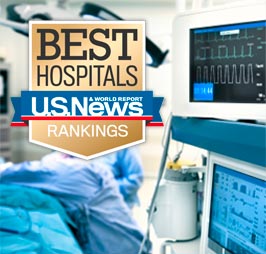 While I was on vacation a few weeks ago, U.S. News & World Report came out with its annual ranking of best hospitals. Baltimore's Johns Hopkins Hospital was once again atop the Honor Roll, followed by Massachusetts General in Boston and the Mayo Clinic in Rochester.
Fifteen other hospitals also made the Honor Roll, scoring near the top in at least six out of 16 specialties. Scores are based on reputational surveys of physicians, survival rates for patients, and other care related indicators, such as nurse-staffing ratios, patient volume, and use of cutting edge technologies.
Critics have raised concerns about the quality measures used to compile these hospital rankings. Ezekiel Emanuel and Andrew Steinmetz from the Department of Medical Ethics and Health Policy at the University of Pennsylvania, wrote a pointed editorial in last week's Wall St. Journal.
But despite that, the hospital rankings exist.  I only wish the scores could also include an evaluation of the hospitals' physical environment in each specialty area.  If they did, many of those on the Honor Roll would probably still make it. Maybe it's even an unknown factor that is contributing to their scores.
Unfortunately, quality of the physical environment not something that's easily measured, nor do most hospital leaders care about measuring it -- despite the fact that they invest millions of dollars every year to renovate or build new facilities.
Given the choice, healthcare consumers needing elective procedures or consultations want to go where they can get the best care.  Someday they may even choose based on how the hospital looks and feels to them.
P.S.  Please do me a favor -- if you liked this post and like this blog, please share it with others by sending them the link and/or post it on your Twitter, LinkedIn, or Facebook, etc.  Also, don't forget to subscribe, so you'll get emails when new content is posted.  Thanks!