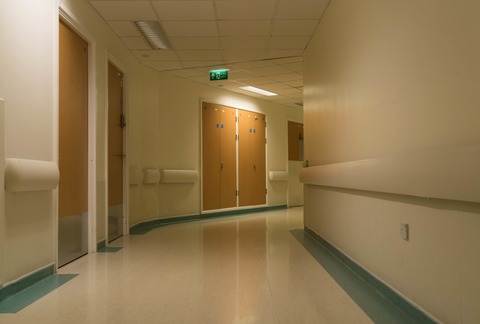 When I looked at the latest HCAHPS survey summary analysis I was pleased to see that the question about quiet at night is no longer the lowest scoring question of the bunch.
Q: During this hospital stay, how often was the area around your room quiet at night?
A: Never, Sometimes, Usually, Always
Of the patients who answered "always," the average score reported in July 2018 was 62% -- up from 54% when scores were first reported in March 2008.
Hospitals are making progress. But the averages of hospitals in many states for the noise question are still in the 5oth percentile.
Where Do We Go From Here?
Can hospitals across the U.S. get the overall "always" score for the noise question in the 80th percentile?
I'm not sure. But I do know that creating quieter hospital environments means not only addressing operational and cultural issues but also looking at the design of the physical environment.
Design Strategies
Some well-known architectural and interior design strategies for reducing hospital noise are:
Single patient rooms
Examination and treatment rooms enclosed with walls
Private discussion areas in admitting areas and on units
High-performance sound-absorbing acoustical ceiling tiles
Effective wall and furniture design and layout
Decentralized or "distributed" nurse stations
Carpet or sound-absorbing flooring material
And of course, there are also sound masking systems that are engineered to mask human speech and blanket unwanted noises. Or noise cancellation technologies that reduce an unwanted sound by adding a second more pleasant sound to the mix. (Read more about the differences between these two.)
All Sounds are Not Bad Sounds
I'm also not sure that getting the overall "always" score for the noise question in the 80th percentile should be the goal. Are hospitals always supposed to be quiet?
At night, maybe -- so patients can rest and not mess up their circadian rhythms.  But hospitals are alive 24/7 with activity. Even at night.
Perhaps hospitals (and CMS) should be looking at improving the "usually" or "sometimes" scores on the question with the understanding that all sounds are not bad sounds.
Or maybe they should change the question.
P.S.  Please do me a favor -- if you liked this post and like this blog, please share it with others by sending them the link and/or post it on your Twitter, LinkedIn, or Facebook, etc.  Also, don't forget to subscribe, so you'll get emails when new content is posted.  Thanks!