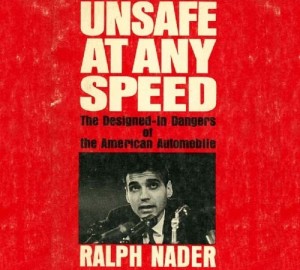 When Ralph Nader's book, Unsafe at Any Speed, came out in 1965, it was a wake-up call for the U.S. auto industry to spend money to design safer cars. The subject of Nader's book was the rear-engined Chevrolet Corvair, whose design flaws caused crashes and did not protect drivers or passengers.
As a result of Nader's advocacy, motor vehicle and highway laws were passed in 1966 that changed the design of automobiles and driving behavior.
Since then, the U.S. automobile fatality rate has dropped 64%, from 50,894 deaths in 1966 to 32,885 deaths in 2010. This, in spite of the fact that Americans are driving almost three times more miles per year than in 1966.
Organizations across the U.S. are working hard at improving hospital safety and quality.  More than 3,700 hospitals are participating in the government's national Partnership for Patients campaign, whose goal is to reduce hospital acquired conditions by 40% and unplanned readmissions by 20% by the end of this year.
They are mostly focused on process improvement though. Which is a good thing. But unfortunately, the design of the physical environment is barely on their radar.
This is somewhat surprising, since government agencies like AHRQ have funded projects that explore the link between quality and safety and the physical environment.  The work that the 3,700 hospitals are doing as part of a Hospital Engagement Network (HEN) under the Partnership for Patients campaign is being driven by the 26 organizations that are facilitating the HENs.
How can we get these 26 organizations to realize that just like design helped reduce automobile fatalities, the design of the hospital environment can help reduce medical errors and needless deaths? Organizations like The Center for Health Design and the American Institute of Architects Academy of Architecture for Health should have been reaching out to the HEN facilitators when the work started several years ago.
It's not too late. Who is going to be the Raph Nader of healthcare?
P.S.  Please do me a favor -- if you liked this post and like this blog, please share it with others by sending them the link and/or post it on your Twitter, LinkedIn, or Facebook, etc.  Also, don't forget to subscribe, so you'll get emails when new content is posted.  Thanks!