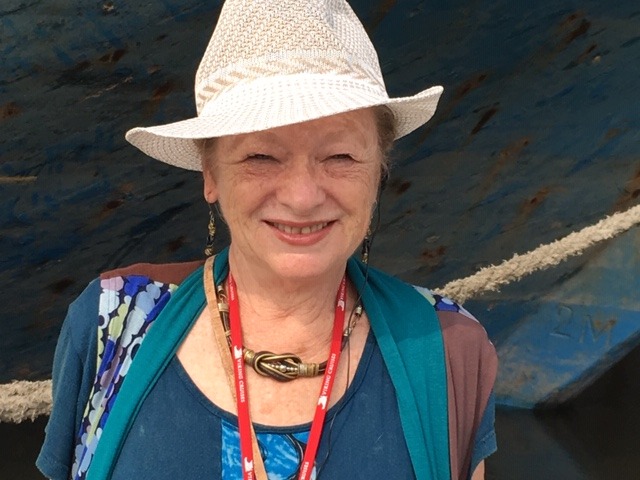 I first met Barbara Huelat when she and I were serving on the Advisory Board for the Symposium on Healthcare Design in the late 1980s.
That was a long time ago.
She was a designer for Ellerbe Becket and I was an editor for Contract magazine. We both went on to be founding board members of The Center for Health Design (which grew out of the Symposium) in 1993.
Match Made in Heaven
In the early 1990s, Barbara left Ellerbe to move to the Washington D.C. area and start a healthcare design practice with her new husband Joe Parimucha, whom she'd met at Ellerbe. After observing their relationship, I always thought that theirs was a match made in heaven -- both professionally and personally.
Since our days as CHD board members, our paths have crossed at conferences or meetings.  But I hadn't seen or spoken to Barbara since Joe passed away in 2015.
I caught up with her this week and we reminisced about how we got to where we are today and talked about the future of healthcare design.
Focus on Healing Environments
Barbara says that being part of the Symposium and CHD was what shifted her focus to healing environments. "At the very first Symposium, I sat in the hotel lobby with [Symposium founder] Wayne Ruga and had a three-hour conversation about healing environments," she says, adding no one in healthcare design was talking about it before that.
The speakers at that first Symposium shared stories that illustrated how inhumane healthcare was. "It just got me," Barbara says. "And I spent the next 30 years trying to sort that out. I'm still trying to sort it out."
What Has to Change?
She believes the patient's journey through the healthcare system is not any better now than it was then. "What has to change?" Barbara asks. "That's really where I am now."
After partnering (and later merging her firm) with Davis Partnership Architects, Barbara is back on her own as a consultant, putting patients at the center of the design process. Human-centric design has become her personal design philosophy.
She defines human-centric design as "a creative approach to design problem solving with the focus on human needs." Which is much more than aesthetics.
Barbara acknowledges that not all of her healthcare clients understand this. But that doesn't stop her from trying.
Designing With Empathy
Through her research, writing, speaking, and design work, Barbara continues to advocate for designing with empathy at home and abroad. Next summer she's giving a keynote address at a medical conference in Taiwan.
And even after 42 years as a designer, don't expect Barbara to retire any time soon. "As long as I can think and stand, I'll still be doing this," she says. "It's taken me too long to get to here."
But when she's not working, Barbara likes spending time with her two adult grandchildren. She's also writing a novel about her father's experiences as a B-17 pilot in WWII.
And she's found a sideline gig as a cruise lecturer.
One of her topics on an upcoming Viking Ocean cruise in the Northern Baltic Sea is on how to experience place through your senses. Another is on church design in the Nordic lands.
Not bad work if you can get it.
Want More Barbara Huelat?
Check out her website and blog.
Hear her speak about the "Art and Science of Healing Design" on March 4 in Washington, D.C. Hosted by the AIA | DC Design + Wellbeing Committee.
Read her books, "Healing Environments: What's the Proof?" and "Healing Environments: Design for the Body, Mind, and Spirit."
P.S. Please do me a favor -- if you liked this post and like this blog, please share it with others by sending them the link or posting it on your Twitter, LinkedIn, or Facebook. Also, don't forget to subscribe, so you'll get emails when new content is posted. Thanks!