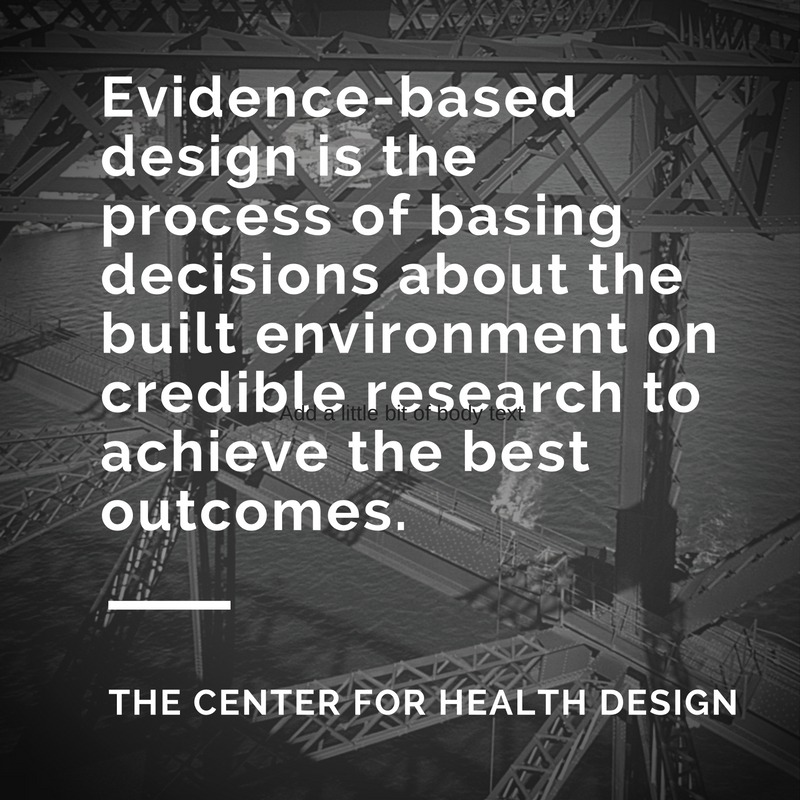 This was a question posed by recently on the EDAC (Evidence-based Design Accreditation and Certification) LinkedIn Group page by Elise Fagan, an intern at Davis Partnership Architects.
In an essay she wrote for the firm's internal newsletter, Fagan pointed out "that evidence-based design, in its true form, is so rarely used that the trend cannot possibly be over -- it has barely begun!"
After briefly exploring its connection to medicine and its artistic interpretation, she concluded, "The concept is still very much alive (and contrary to popular belief, very much outside of healthcare as well) and still very much needs to be applied to our profession."
Evidence-based Design is a Process
I couldn't agree more, but I think that many people in the healthcare design field (or any other design field) don't understand that evidence-based design is a process, rather than just the actual research that supports an outcome.
In other words, just because there is research that links an outcome to your design decision doesn't mean you are practicing evidence-based design. It's much more complicated than that.
Which maybe is why the evidence-based design trend has barely begun.
Developing or Stalled Trend?
Is EBD a trend, though? Webster's simple definition of a trend is "a general direction in which something is developing or changing."
Once it was a trend, but I sort of feel that evidence-based design has stalled a bit. There's no longer a buzz about it. It's not a trending hashtag on Twitter or very visible on other social media platforms.
Maybe, as Fagan suggests, "because the overused term has fizzled out and professionals and academics are moving on to other phrases to describe their work so that they avoid accusations of trend riding."
Trends always come before change, so what's wrong with trend riding?
D. Kirk Hamilton of Texas A&M University and Co-Editor of the HERD Journal agrees that EBD is still a new concept. In response to Fagan's post, he writes, "most of the established leaders in firms were not exposed to research methods or a process to utilize research while they were being educated. There is a new generation coming out of schools that has been introduced to these ideas, and they will be the practice leaders of the future."
What's the Answer?
Perkins + Will's Alberto Salvatore, another early EBD champion, also weighed in.
"Contrary to some in the industry who are reluctant to acknowledge the continually growing movement, the Evidence Based Design process allows informed decisions to streamline implementation, engineering value into the process with the Interdisciplinary Design Team approach to project delivery," he wrote.
"I would ask those who question this approach: Are we moving toward or away from making informed decisions based on the latest credible evidence in our design process? I think we all know the answer."
What do you think?
P.S.  Please do me a favor -- if you liked this post and like this blog, please share it with others by sending them the link and/or post it on your Twitter, LinkedIn, or Facebook, etc.  Also, don't forget to subscribe, so you'll get emails when new content is posted.  Thanks!