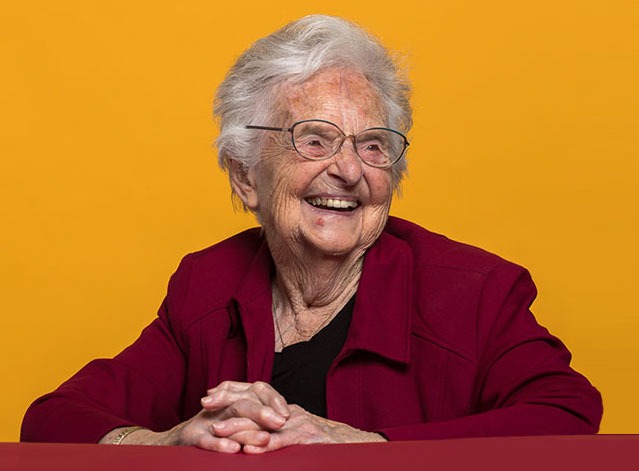 By the middle of this century, living to the age of 100 is going to be the norm.
Like Sister Mary Jean (above), who became something of a folk hero as the chaplain for the Loyola Chicago men's basketball team that reached the NCAA Final Four in 2016.
She's now 103. And she just published a book.
I don't know about you, but I'm not sure I want to live to be 100. Especially if I'm not in good health.
Meeting the Challenges Longevity Creates
Whether I'm still around or not in 37 years, meeting the challenges that longevity creates is something our society is going to have to deal with. Because we're not very good at it right now.
Our current social institutions, norms, and policies evolved when people were only living half as long.
The good news is that some very smart researchers at the Stanford Center for Longevity have come up with a New Map of Life for 100 years to thrive. This map is guided by these 10 principles that lay the groundwork now for a society that is healthier, more equitable, and longevity ready:
Make the most of the 100-year opportunity
Invest in future centenarians to deliver big returns
Align health spans to life spans
Prepare to be amazed by the future of aging
Life transitions are a feature, not a bug
Learn throughout life
Work more years with more flexibility
Build financial security from the start
Build longevity ready communities
Age diversity is a net positive for societies -- and the bottom line
Facilitating Active and Healthy Aging
I'm not sure whether the Stanford researchers mean literal construction when they say "build longevity ready communities." But that's how I'm going to interpret it.
Which means that those of you in the healthcare and senior living design industry must start to design and build buildings, outdoor spaces, and campuses that facilitate active and healthy aging. To do this, Gensler's Tama Duffy Day suggests that they need to be:
Community centric
Flexible and customized
Inclusive and empathetic
Resilient and adaptive
Mixed use
As you look to renovate and design new facilities and grounds that will serve an increasingly older population, I challenge you to look at all of these things. Product manufacturers, you should be paying attention, too.
P.S. Please do me a favor -- if you liked this post and like this blog, please share it with others by sending them the link or posting it on your Twitter, LinkedIn, or Facebook. Also, don't forget to subscribe, so you'll get emails when new content is posted. Thanks!
Photo: Loyola University.