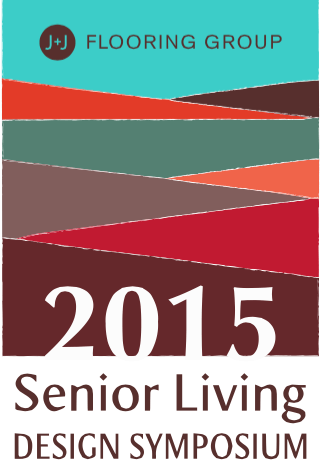 How many of you live in a facility? How many of you want to live in a facility when you get older? Don't you want to live in a home, a community?
"Facility" is a word that should be banned from the senior living design community's vocabulary. This might not happen anytime soon in this highly regulated healthcare sector, but it's time for the industry to evolve.
Those messages came through loud and clear at last week's Senior Living Design Symposium (SLDS) hosted by J+J Flooring Group in Santa Fe, NM. This invitation-only event brought together 13 senior living design specialists from across the country for two days of thoughtful sharing and rich dialogue.
No longer healthcare's stepchild, senior living is finally coming into its own. The release of a separate FGI Guidelines for Design and Construction of Residential, Health, Care, and Support Facilities (there's that word again) last year was a big leap forward. Its emphasis on person-centered care is spot-on.
The projects the designers at J+J's SLDS shared last week ran the gamut from older, more traditional places (you know, the ones with wallpaper borders and long carpeted corridors) to more contemporary upscale communities for more affluent seniors. And one very interesting new continuing care retirement community-like project in China -- where there isn't a long-term care system because elders have always been cared for in their children's homes. A model that's no longer sustainable.
Once again, I was struck by the passion these designers have for their work.  Some of it isn't very glamorous or exciting. And they are constantly hitting the regulatory wall when they try more innovative things.
But they, and the hundreds more like them in the U.S. who specialize in this field, are helping to transform the industry. The continuing care retirement communities (CCRCs) that many of today's 70- and 80-somethings are living in aren't going to appeal to the more picky Baby Boom generation. Or those with limited resources.
We're going to have to invent new models. We ARE inventing new models.
It's truly an exciting time to be designing more appropriate homes and communities for our active, aging elderly population to live. Where we will live.
Look for more to come from J+J Flooring Group on what was discussed at the Symposium.
P.S.  Please do me a favor -- if you liked this post and like this blog, please share it with others by sending them the link and/or post it on your Twitter, LinkedIn, or Facebook, etc.  Also, don't forget to subscribe, so you'll get emails when new content is posted.  Thanks!