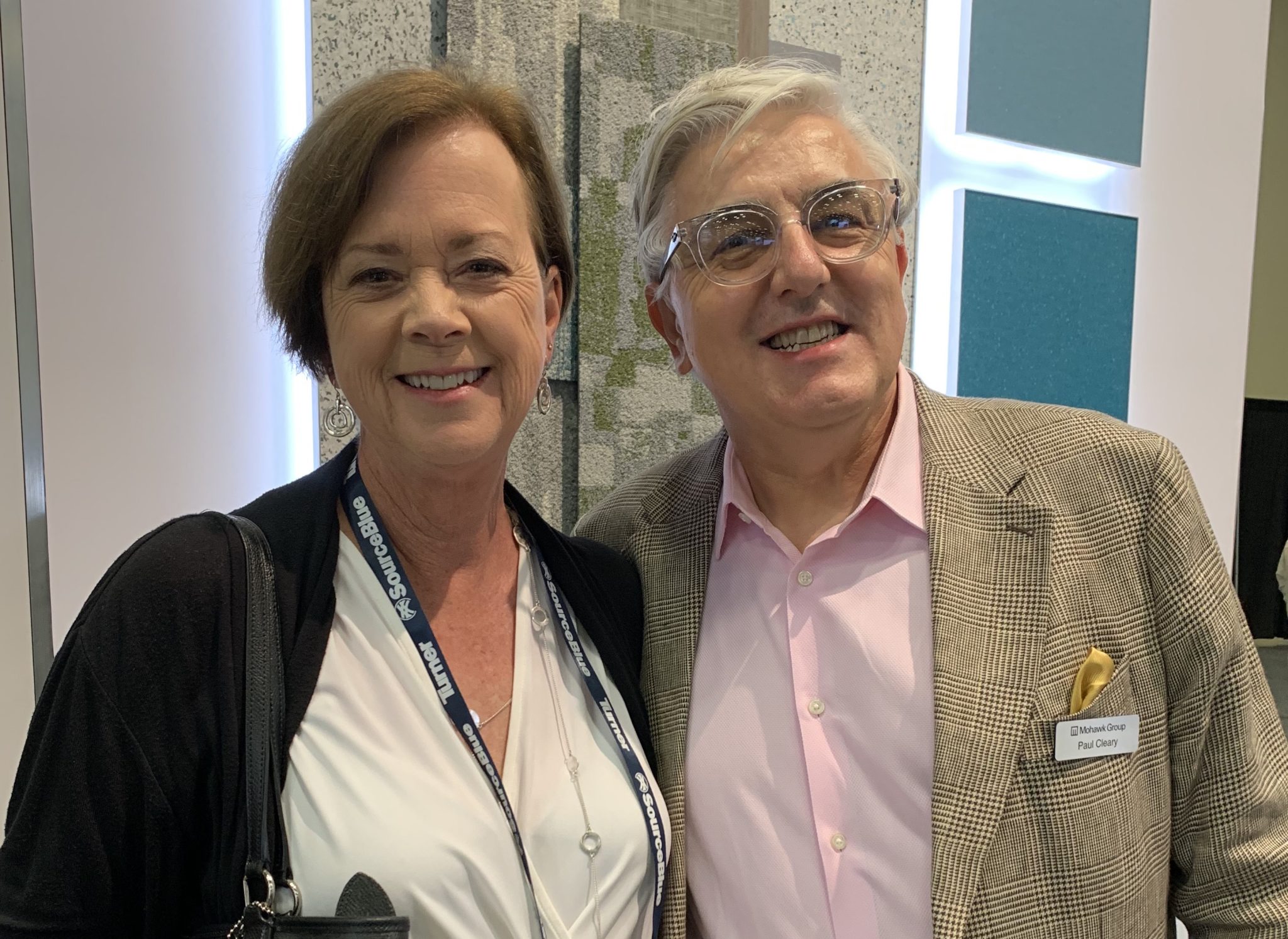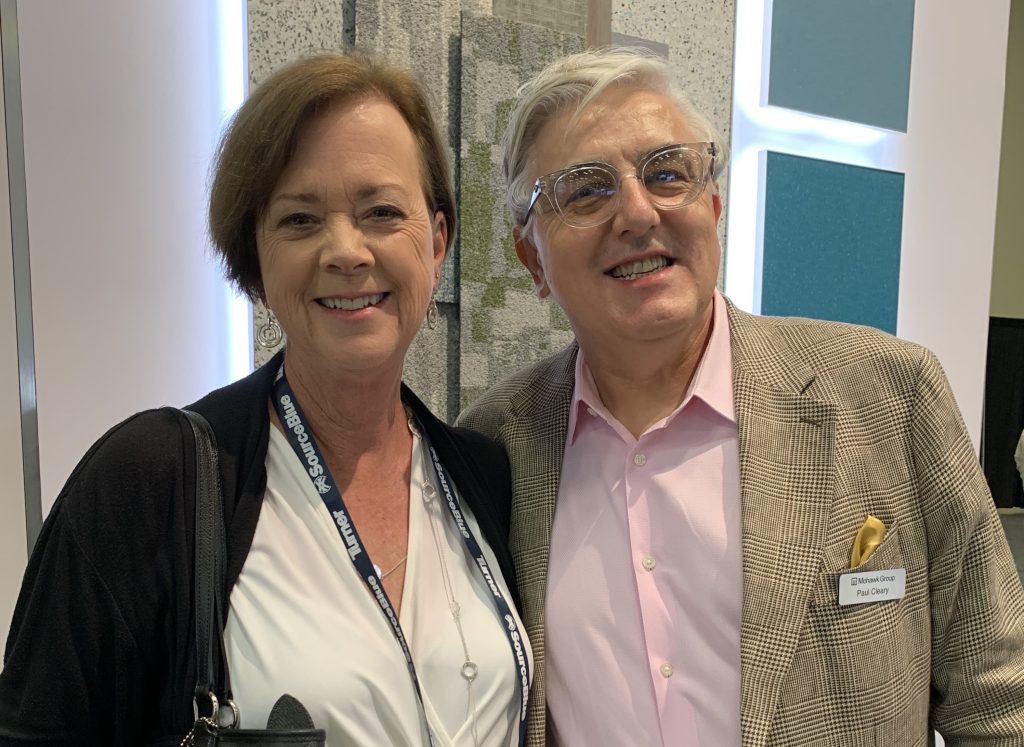 I've known Paul Cleary since we met at a healthcare design event in 1998 when he was the general manager for Bonar Floors in the U.S. Shortly after that, he hired me as a consultant to help promote Bonar Floors' unique Flotex textile floor tile.
I'd never heard of Bonar Floors or Flotex before that, but working with Paul was a great experience.  He understood the value of marketing and was willing to try things. He listened to people and treated them with kindness and respect.
And I have to think that our efforts to elevate the Flotex brand in the U.S. was part of what led Forbo to acquire Bonar Floors in 2008.
Paul's Backstory
The story of Paul's career in the commercial flooring and textile industry began more than 25 years ago, when he came to Chicago from his native Ireland to run operations for Bonar Floors in the Americas, which he did for 13 years.
After that, he held senior positions at Mohawk, Lexmark Carpets, Tarkett, and Twitchell. He was enjoying his relatively new role as senior vice president for healthcare and senior living at Mohawk when the investor owners of Momentum Textiles & Wallcovering offered him the position of CEO and President last December.
But it felt like the right move so he left a job he loved to take on an even bigger challenge.
CEO on the Go
I caught up with Paul recently on Zoom. Just a little over three months into his new job, he seems relaxed and happy, clearly enjoying his new role, which has him traveling cross-country to Momentum's various offices and showrooms in Chicago, Dallas, Irvine, Calif., Greensboro, N.C., and New York.
Paul says the biggest challenge he faces in his job now is the hybrid work model, which makes getting in front of clients more difficult. Because of that, Momentum is focusing on improving its digital presence.
"As a business leader, you have to focus on your customers," he said. "We're going to delight our customers in every way possible."
Healthcare and Senior Living Growing
While healthcare and senior living is less than 20% of Momentum's business, it's growing. With a strong presence in the hospitality sector, the company's textiles and wallcovering designs are appropriate for the current "res-i-tal-ity" look in senior living -- particularly independent living, where the emphasis is on lifestyle.
What about product trends? Paul sees a lot of growth in wall protection and more emphasis on acoustics. And while reducing the embodied carbon footprint of materials may be an emerging trend in healthcare and senior living, by partnering with vendors to manufacture its products with a low carbon footprint, Momentum is well ahead of the game.
The company has also created non-PVC wallcoverings for healthcare, which Paul acknowledges are a little more budget challenged. Sustainability, however, is one of Momentum's core values and something that resonates with Paul as a leader.
Giving Back
Under Paul's leadership at Mohawk, the company supported nonprofits like The Center for Health Design (CHD) and the Society for the Advancement of Gerontological Environments (SAGE). He still sits on CHD's Advisory Board and intends to continue sponsoring initiatives for both these organizations.
When I asked him why it's important for product manufacturers to support these organizations, Paul said, "We live in an ecosystem we call a community. It's about raising the bar for everybody."
Momentum is not exhibiting at the Environments for Aging conference this weekend, but the company has a huge showroom at The Merchandise Mart on the third floor (the old Herman Miller showroom), where its vast product line is curated for all to see. So, if you're attending Neocon in June, check it out.
It's All About People
Paul says that the most rewarding thing he's done in his profession are the relationships he's developed throughout the years. "It always comes back to people. I've been lucky to work with some great people; I've been mentored by great people; and I get to mentor some great people as well."
He feels fortunate to have been able to make a living doing something he loves, working with people he loves to work with. "As a business leader, we don't talk about it a lot," Paul says, "but it's a reality of what we do."
Paul hasn't lost his Dublin accent and it's part of what makes him so personable and charming. And the twinkle in his eye that tells you he doesn't take himself too seriously. Which I think is a great quality in a leader.
Proud U.S. Citizen
His mom still lives in Dublin and Paul goes to Ireland three or four times each year. But would he ever go back to Ireland permanently?
"In an ideal world I'd be able to spend more time in Ireland," he said. "But I believe I'll always live in the U.S. I'm a proud citizen; my children are citizens. I still love the values of America and think it's the greatest country in the world."
Paul believes that work and life go together, but his favorite thing to do when he's not working is to travel with his wife and adult children. And not surprisingly, his favorite part of the world is the County Kerry in Ireland.
"It's the edge of Europe; the next stop is America," he said. "What was once a rural desolate part of the world is now a very desirable place -- a food capital with lot of European and artists living there. It's a truly global community now."
P.S. Please do me a favor -- if you liked this post and like this blog, please share it with others by sending them the link or posting it on your Twitter, LinkedIn, or Facebook. Also, don't forget to subscribe, so you'll get emails when new content is posted. Thanks!