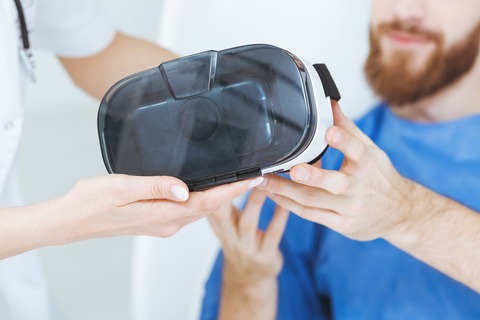 Virtual reality is coming to healthcare.
In fact, it's already here.
For several years, researchers at several hospitals across the country have been studying the effects of immersive experiences on patients. They've found that it can calm and soothe patients, easing the sensation of pain or distracting them from uncomfortable procedures.
These researchers also believe VR may be able to lower blood pressure, help treat depression, and provide relief for women enduring long labors.
When most of us think of virtual reality, we think of gaming. But VR has a storied past, including being used to train pilots in the U.S. military.
Now, physicians performing complicated surgeries use VR. It has also been used successfully to treat PTSD, by actually taking the person back to the scene where he or she was traumatized.
Virtual Reality as Architectural Simulation
Until recently, my own experience of virtual reality in healthcare had been limited to visits to simulated patient rooms. In that case, the technology was being used to demonstrate what might be possible, without having to build an actual patient room.
And that's how most architecture and design firms that are using VR are using it.
The use of VR to transport patients to a different environment, particularly one that is not simulated, is very new. And it has a lot of possibilities as the technology evolves and they are able to move and interact with the environment more.
I recently tried out C.A.R.E. VR – a new product from Healing HealthCare Systems that offers an immersive experience that allows users to explore and interact with nature in a 360-degree world.
Full disclosure here – Healing HealthCare Systems, which produces C.A.R.E. Programming, is a client of mine. But it is one of the first companies to offer a 360-degree immersive experience for patients with videos of real nature scenes.
I found myself standing at the foot of a beautiful meadow in Iceland looking up at the surrounding mountains. With one click, I could "jump" to the top of a mountain and look down at the meadow.
Or, I could go to a beach in Monterey, Calif., and just sit and look at the waves crashing on the rocks.
Virtual Reality Technology Not Complicated
The technology for this is fairly simple and inexpensive. All it requires is a VR headset (@ $100), programming licensed from a content provider, and noise-cancelling headphones (@$150).
If that sounds expensive to you, consider the cost of pain meds or an additional day in the hospital.
For years, we've talked about incorporating positive distractions into healthcare environments. In the physical environment, this translates to things like artwork, music, educational displays, fish tanks, water fountains, access/views to nature, and more.
I'm not sure how virtual reality fits into this list. Because even though it's a designed experience, it's not designed by architects or interior designers.
It's also not a technology that requires a special space. Patients can use it from their hospital bed.
But as the virtual environment begins to overlap with the real environment, it's something that we should all be paying attention to.
What's your take on it?
More on Virtual Reality in Healthcare
"VR in Healthcare Reduces Patient Fears, Ups Care Experience," Patient Engagement HIT, July 26, 2107.
"Enlisting Virtual Reality to Ease Real Pain," Wall St. Journal, July 13, 2017.
"Top 10 Lessons Learned Using Virtual Reality in Hospitalized Patients," Virtual Medicine, June 26, 2017.
P.S. Please do me a favor -- if you liked this post and like this blog, please share it with others by sending them the link or posting it on your Twitter, LinkedIn, or Facebook. Also, don't forget to subscribe, so you'll get emails when new content is posted. Thanks!