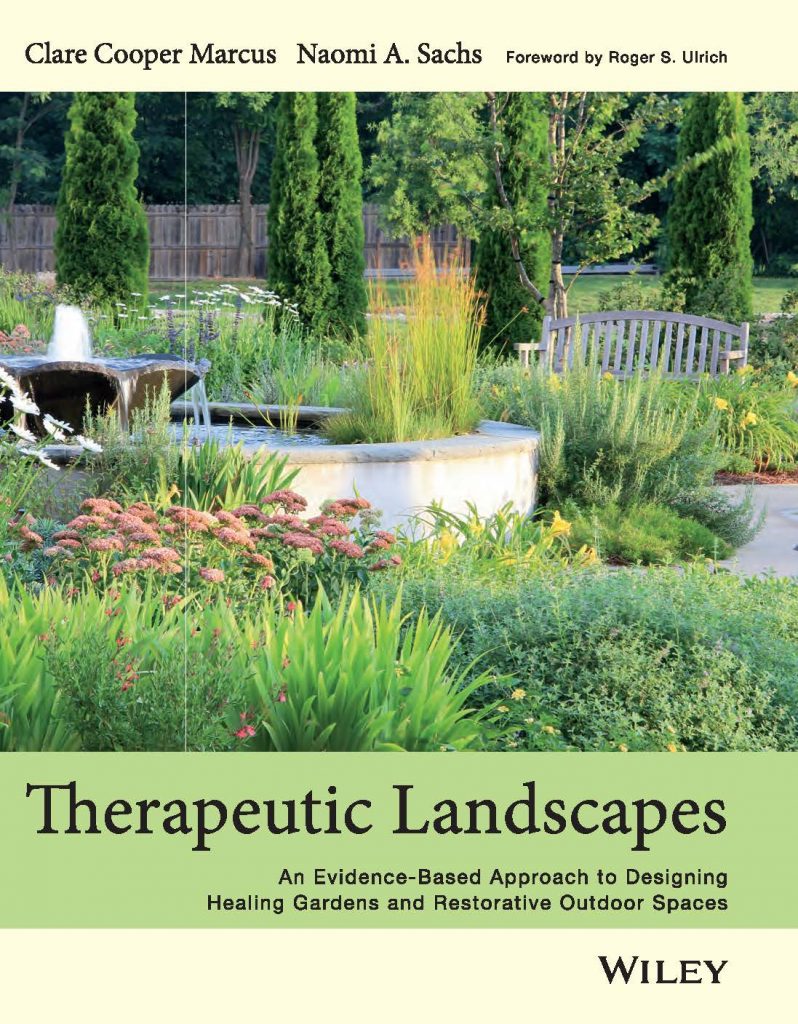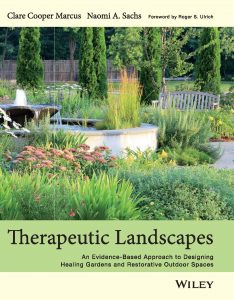 I recently got my hands on a copy of Therapeutic Landscapes:  An Evidenced-based Approach to Designing Healing Gardens and Restorative Outdoor Spaces, a new book by Claire Cooper Marcus and Naomi Sachs. While I confess I didn't read it cover to cover, my impression is that it is a significant body of work.
This highly illustrated 326 page book focuses on the importance of evidence-based design, highlights case studies, and presents research-based guidelines. It's a must-read for anyone designing restorative outdoor spaces -- including landscape architects, designers, healthcare administrators, clinicians, and even potential funders.
Chapters cover healing gardens in a variety of healthcare facilities, as well as gardens for veterans and active service personnel and restorative gardens in public spaces.
And, if you've ever wondered what the advantages and disadvantages are of different types and locations of therapeutic landscapes in healthcare facilities, you need look no further.  Chapter 4 lays this out in clear, concise format.
I also like the chapter on the history of hospital outdoor space, which traces its origins from the Aesclipion at Epidaurus in ancient Greece, to monastic settings in the Middle Ages, Roman Catholic hospitals in the 16th and 17th centuries, pavilion style hospitals in the 1800s, and more recent large high-rise medical centers. It's actually a pretty good chronicle of the history of hospitals and healing places in general.
Fun fact: The first set of recommendations for hospital garden design are thought to have been written by German horticultural theorist Christian Cay Lorenz at the end of the 18th century.
Other chapters cover research, participatory design, general design guidelines, planting and maintenance, sustainability, funding, and post-occupancy evaluation. There is something for everyone in this book.
University professors and those teaching postgraduate certificate programs will certainly be grateful for Therapeutic Landscapes, too.  It offers a ready-made curriculum for healthcare garden design.
Published by John Wiley & Sons, the book is available in both hardcover and ebook editions. Amazon pricing at the time of this post was $70.98/hardcover and $48.49/Kindle Edition.
P.S.  Please do me a favor -- if you liked this post and like this blog, please share it with others by sending them the link and/or post it on your Twitter, LinkedIn, or Facebook, etc.  Also, don't forget to subscribe, so you'll get emails when new content is posted.  Thanks!