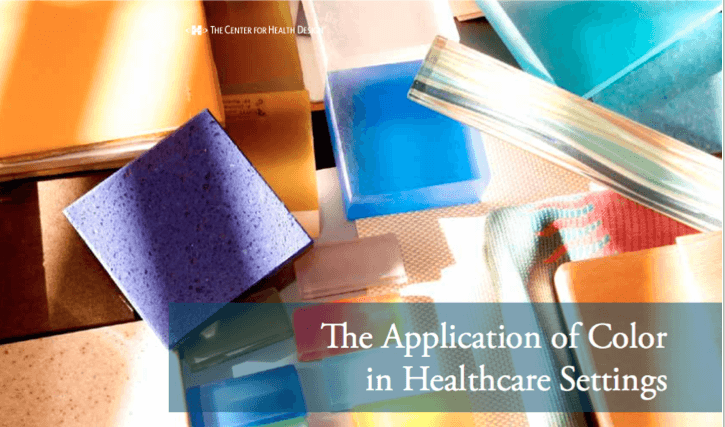 When I joined Contract magazine as an associate editor in the mid-1980s, I was given the assignment of writing the color column.
In sports, a color commentator is the one who assists the play-by-play announcer, often by filling in when play is not in progress. But in a design magazine, a color commentator shares ways in which color is being used in interior spaces and buildings.
And while I've moved on from being a color commentator, I'm still fascinated by the topic of color.
Color Commentary
The latest color commentary is a recent paper titled, "Application of Color in Healthcare Settings," written by Sheila Bosch, Rosalyn Cama, Eve Edelstein, and Jain Malkin. Published by The Center for Health Design (CHD) with support from Jain Malkin Inc., KI, and Pallas Textiles, the 77-page paper is, in the authors' words, "a reference for what is currently understood about color, separating research from experience and anecdote."
The authors state that the origin of the paper is based on an observation that many hospitals built in the past five years have been lacking color. I would add "high profile, award-winning" hospitals to that statement.
Without a doubt, the best interiors I've seen in recently constructed hospital and clinic buildings aren't afraid of color, using rich, complex palettes on surfaces and materials in clinical, as well as public spaces.
Color Outcomes in Healthcare
And while the research linking color to outcomes in healthcare isn't definitive, who among us doesn't believe that color can enhance patient and staff experiences, perhaps contributing to improved outcomes? Because there is good research linking views of nature to patient outcomes.
And, when we look at images of nature in Henry Domke's photos that are used in healthcare facilities or on The C.A.R.E. Channel programming for patient TV, is it the shape of the landscape, flora, a fauna that grabs our attention, or is it color?
So, if you're at all interested in this topic, download and read the free paper from the CHD website.  It provides great suggestions for using color in healthcare facilities, includes stunning project examples (some of them annotated), and explores the critical issues design professionals should consider when applying color.
An added bonus is an appendix that lists the cultural implications of color by country.  For example, did you know that in the United Kingdom, red is associated with the crown, power, and masculinity; while in Germany it is associated with a menacing character in folk literature and considered unlucky?
P.S.  Please do me a favor -- if you liked this post and like this blog, please share it with others by sending them the link or posting it on your Twitter, LinkedIn, or Facebook. Also, don't forget to subscribe, so you'll get emails when new content is posted.  Thanks!