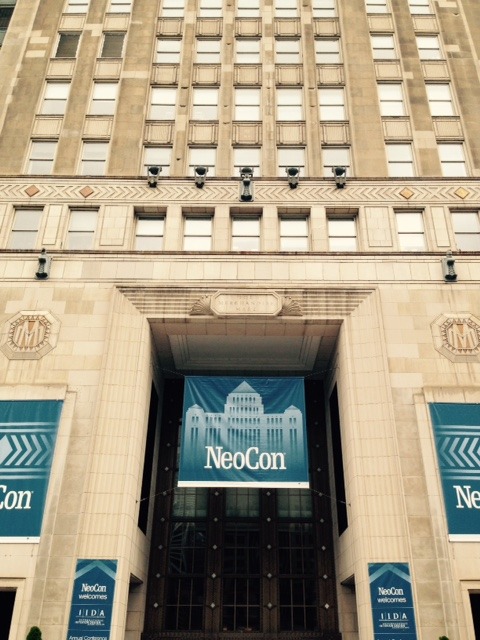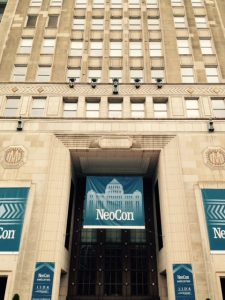 Judging by the long line at the Starbucks on the second floor of The Merchandise Mart this past Monday, I'd say that traffic was up at NeoCon this year.
And while the focus of the biggest contract furnishings trade show in the U.S. is on office design, there's plenty to see if you're only interested in healthcare products. Oh, and if you want to, you can go to some educational sessions and pick up some CEUs.
But most people come to NeoCon to see products.
NeoCon Lite
My one day at the show this year was definitely NeoCon Lite. Using the Best of Neocon as my guide to the latest and greatest healthcare products, I hit the ground running on Monday morning, starting at the top on Floor 11 and working my way down through Floors 10, 8, 7, and finally 3.
Every healthcare product manufacturer I spoke with said business was good. Acute care projects are still their bread and butter, but ambulatory projects are increasing.
Price, power, and performance seem to be driving much of the clean, crisp, modern design aesthetic.
We're starting to see "smart" features in patient chairs. Wieland's new Accord recliner (which won a Best of NeoCon award) has magnetic sensors to track straight down corridors or laterally in tight spaces.  Herman Miller Healthcare is partnering with EarlySense to incorporate sensors that can monitor things like heart rate and blood pressure while sitting in it's compact, yet roomy Ava recliner, which it showed as a prototype at the show.
It will be interesting to see if healthcare providers want to pay for patient monitoring features. Certainly there are economic benefits, but they've been yet to be proven with patient chairs.
And what about smart flooring? To detect when a patient gets out of bed or a resident wanders? Nobody is doing this -- yet.
Again, my day at NeoCon was short, so I didn't see everything there was to see. Steelcase Health, which made a big statement last year with its name change and showroom, did not introduce new healthcare product this year -- but its new BrodyWork Lounge won a Best of NeoCon award for Education Solutions.
Haworth Health Environments is still establishing a presence in the marketplace after buying Legacy Furniture Group two years ago. But I was intrigued by the possibility of using the mother ship Haworth's technology products, Workware and Bluescape, in healthcare for remote consultation or teaching.
I miss IoA at these trade shows. Always great to see what new designs are coming out of this small company, which gave up exhibiting at trade shows several years ago to more directly market to customers.
Best of NeoCon Awards
Here's a list of the 2015 Best of NeoCon award-winning healthcare products:
J+J Flooring Group and Mohawk Group also introduced some new hard-surface flooring that has great healthcare potential.  I'm sure there was lots more flooring that I didn't come across.
Best healthcare showroom design?  Herman Miller Healthcare/Nemschoff. The company did a really nice job of demonstrating and narrating how they are "Elevating the Human Experience of Care." Love the postcards.
What did you see that you liked at Neocon? Post a comment below.
P.S.  Please do me a favor -- if you liked this post and like this blog, please share it with others by sending them the link and/or post it on your Twitter, LinkedIn, or Facebook, etc.  Also, don't forget to subscribe, so you'll get emails when new content is posted.  Thanks!