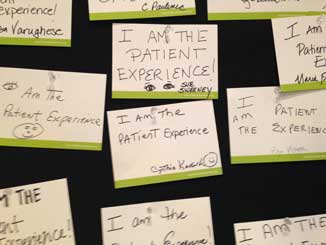 I'm happy to report that the patient experience movement is alive and well.  In fact, it's been alive and well since the early days of Planetree, but it's gained focus and momentum in the past five years under the direction of Jason Wolf at the Beryl Institute.
More than 700 patient experience managers from hospitals all over the country gathered in Chicago this week for Beryl's excellent conference to learn about best practices, share stories, and find purpose in this work. The overwhelming message is what impacts the patient experience the most is the interaction between staff and patient.
But there are lots of other things that impact it as well.
At the Mayo Clinic in Rochester, MN, a 20-year plan is underway to create a "Destination Medical Center." And while this may sound like a new building, according to Lisa Clarke, Administrator of the Destination Medical Center, it's much more.
Because Clark told us at the Beryl conference, Mayo realized that the patient experience is much broader than the walls of the clinic.  It starts in the cab ride from the airport when the driver tells you a story about Mayo that may or may not put your mind at ease about the treatment you're about to receive.
Then it continues in the restaurants.  Waiters and waitresses have become so familiar with the typical procedures that people come to Mayo for, that they give advice on food choices.
Clark said that while Rochester is a nice place to live, it's not exactly a booming metropolis with only 200,000 residents. As a destination, the restaurant and hotel choices are limited and there's not a lot to do in-between treatments at the clinic.
So, Mayo went to the state government and got $585 million to help support infrastructure development as an incentive to lure developers to the city to build new hotels, housing, restaurants, retail shops, entertainment venues, recreational facilities, etc.  None of this money will be used to pay for Mayo buildings or programs.
Granted, Mayo's position as a destination medical center is unique. People come from all over the country -- the world, even -- to get treatment there. But the idea that the community is the patient experience is powerful.
It's a concept that can apply to any hospital community in America.
I think it has implications for senior housing as well.  Why not use the destination medical center concept to create a desirable community for seniors to move to?  A place where they can still live independently and be active, but have a state-of-the-art hospital or clinic just down the street.
We all know that healthcare is moving into the community and that this will impact how and where people are going to get their healthcare, which ultimately will impact facility design. The opportunity here for healthcare design is to look beyond the four walls of the building and see where else design can have an impact.
Because each and every one of us is the patient experience.
P.S.  Please do me a favor -- if you liked this post and like this blog, please share it with others by sending them the link and/or post it on your Twitter, LinkedIn, or Facebook, etc.  Also, don't forget to subscribe, so you'll get emails when new content is posted.  Thanks!