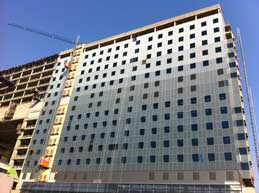 It's healthcare design and construction survey reporting season again, and not a whole lot has changed since last year. The focus is still on outpatient facilities, emergency departments, medical office buildings, and infrastructure.
The focus is still on outpatient facilities, emergency departments, medical office buildings, and infrastructure.
And, healthcare providers are still grappling with how to respond to the Affordable Care Act.  In a survey of more than 190 professionals at last fall's Healthcare Design conference, Mortenson Construction concluded that, "Healthcare providers recognize that their response to the ACA must include new approaches for their facilities."
Use of Evidence-Based Design Up
Making spaces more flexible, efficient, as well as helping to provide a better patient experience and support multi-disciplinary teams are also trends Mortenson cites that we've heard about before.  But, use of evidence-based design is up 19% over last year, with 65% reporting that they always/usually use it when their organization executes major facilities projects.
Of course, we don't really know what "use" means in this context, but I still take this as a good sign for EBD.
Topping out at $9.7 billion, acute care hospitals still make up the majority of total construction costs for completed projects ($32 billion) in Modern Healthcare's 2014 Design & Construction Survey.  Projects reported by 151 respondents that were designed in 2013 topped $55.5 billion, slightly up from $54.8 billion last year.
Despite this, 47% reported working on a project that was stopped or stalled in 2013, with 58% of those projects restarting again. So the weak economic recovery and lingering uncertainties over the ACA may still be in play.
You have to be a premium web subscriber to download Modern Healthcare's complete survey results, so here's a few more tidbits:
51% said they'd been part of an integrated project delivery team in 2013
HDR Architecture ranked #1 again, with $6.8 billion in reported dollar volume for healthcare projects
26% worked on international healthcare projects, just slightly up from 25% last year
Changes Needed to Existing Facilities
Finally, confirming Mortenson's findings, the Health Facilities Management/ASHE 2014 Hospital Construction Survey said that senior leaders at hospitals and health systems are finally thinking about the ACA's impact on facilities. When asked, "As the organization continues to strategic on how best to respond to the Affordable Care Act, have there been discussions with senior leadership about potential changes needed to existing facilities or campus design, 51% of respondents said "yes," up from 34% last year.
And what about green design? HFM's survey of more than 3,800 healthcare executives found that the majority of hospitals (65%) are specifying green or environmentally friendly materials in their construction projects and many are also incorporating features to improve energy efficiency (65%), air quality (66%), and save water (50%).
So, is green design routine in healthcare? Hardly.  But it's making progress.
There's good data and information in all these survey reports. If you read 'em all, you'll have a really good idea of what is happening in healthcare facility design and construction right now.
P.S.  Please do me a favor -- if you liked this post and like this blog, please share it with others by sending them the link and/or post it on your Twitter, LinkedIn, or Facebook, etc.  Also, don't forget to subscribe, so you'll get emails when new content is posted.  Thanks!