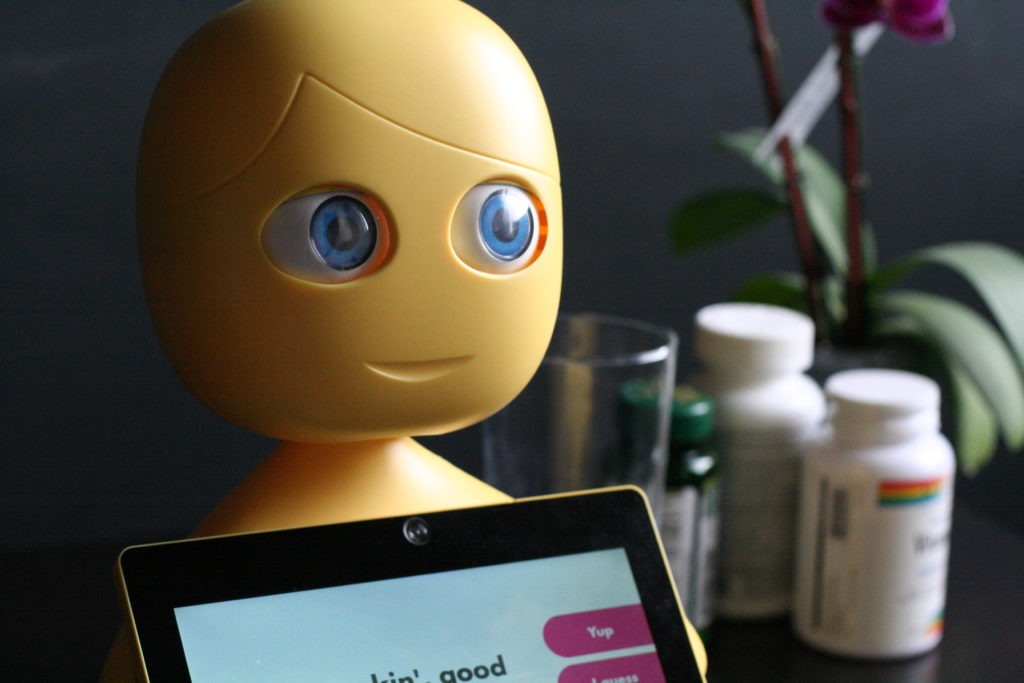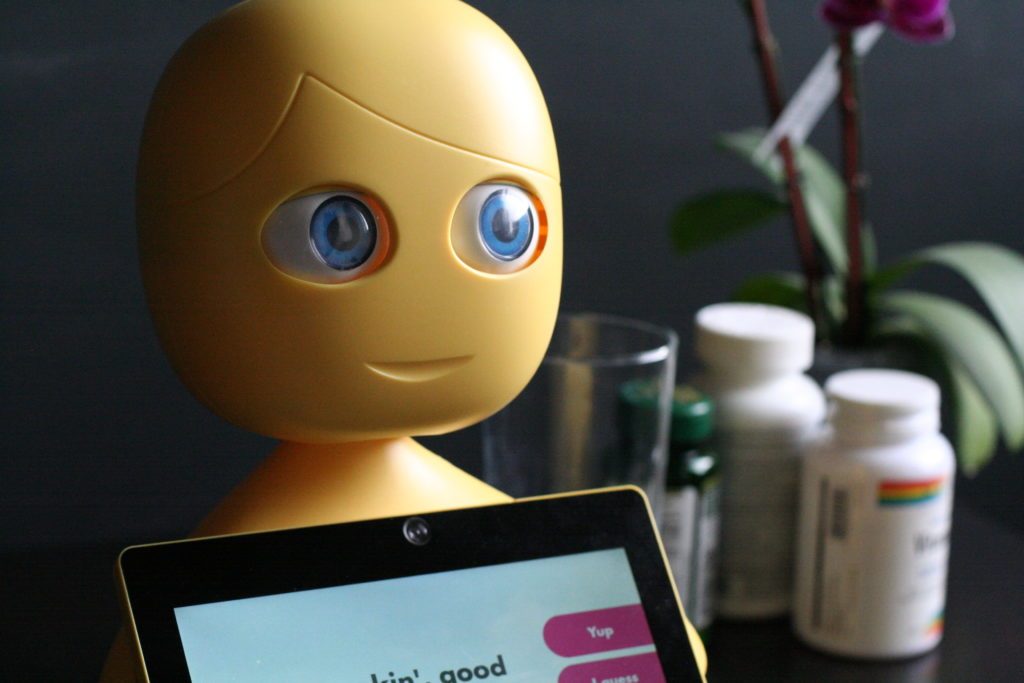 Is there a robot in your future?  If you have a voice assistant like Amazon's Alexa or Google Assistant at home, you might already be going down that road.
And now that Alexa is HIPAA compliant, it opens up a whole new world for home healthcare.
But back to robots. Many think humanoid robots that move and talk are the future of healthcare. And they probably have some role, especially if we continue to face staffing shortages.
But I'm not sure what yet. Because, can a robot be compassionate and empathetic towards patients?
Probably not.
So, bedside care for an acute patient may not be the best use of robots.  But robots are now being used as greeters in hospitals, waiters in assisted living facilities, and as companions for isolated seniors or children and adults recovering at home from a long illness.
Companion Robots for Seniors
At this week's Environments for Aging (EFA) conference in Salt Lake City, several speakers talked about companion robots for seniors. With names like Buddy, Rudy, Mabu (shown above), and ElliQ, these robots can carry on conversations and help keep track of medications.
I don't know. Some of them looked and sounded a little creepy to me.
Maybe robots will be good for people who are by themselves, living on their own. But what about those in senior living communities?
I mean everyone is designing inviting gathering spaces, game rooms, libraries, etc. to get people out of their rooms doing stuff. This is a good thing.
And yet, according to some of the experts that I heard present at EFA, many of these spaces are not used very often. Why? Because unless common spaces are programmed in senior living communities, people won't hang out in them.
"Spaces can't stand alone," the SAGE POE team leaders Amy Carpenter of SFCS and Migette Kaup of Kansas State University reported. "Consistent programming is critical to engage residents at multiple levels."
Part Sorority House, Part Golden Girls
Cooperative housing is another strategy to bring independent seniors together to prevent isolation and loneliness. Garden Spot Communities in New Holland, Penn., recently built a Cooperative Living House on its campus.
An affordable housing option for five seniors (all of whom happen to be women), each person has their own bedroom and bath, but share common spaces such as a kitchen, dining room, living room, sitting rooms, porch, etc. In telling the story of how the project came about, Garden Spot CEO Steve Lindsey described it as a sorority house with a "Golden Girl" mentality, built in an Amish barn raising style that takes inspiration from the household model in senior living.
Amish barn raising?  Yep. Garden Spot engaged its community to help build the house, thus saving on costs and creating awareness and excitement about the project.
If all goes well (and it looks like it is going very well), Garden Spot plans to build five more cooperative houses in the same neighborhood.
What Else They Were Talking About at EFA
Here are three other big issues people were talking about at the conference:
Technology is coming to senior living, and in many cases, it's already here. Besides robots, there was a lot of talk about platforms like Wellzesta and K4 Connect to deliver content to seniors and help monitor their health. Incorporating smart home technology into senior residences is also on providers' radar.  But will seniors pay a premium for this?
Creating communities/housing for inter-generational living is also trending — particularly for low- to middle-income seniors. Architect and senior living guru Jane Rohde has launched a concept called "Live Together" aimed at developers who want to create this type of community.
Staffing remains a huge challenge for senior living providers. This makes creating a place where people want to work even more important than ever. Design of the physical environment has a big role to play in this. But not many providers are taking this on -- yet.
More About Robots
"Companion Robots for Seniors," Robotics Tomorrow, December 2018.
"This is What the Future of Robots May Do to Humanity," Forbes, November 2018.
"The Top 12 Social Companion Robots," The Medical Futurist, July 2018.
"Robotics in Healthcare: Get Ready!" The Medical Futurist, August 2016.
P.S. Please do me a favor -- if you liked this post and like this blog, please share it with others by sending them the link or posting it on your Twitter, LinkedIn, or Facebook. Also, don't forget to subscribe, so you'll get emails when new content is posted. Thanks!