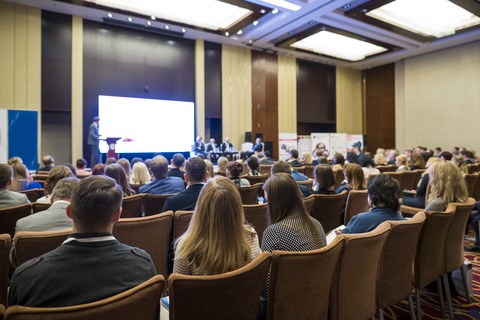 Many of you may be finalizing your 2019 budgets right about now.
Hopefully, you've budgeted for one or two people (or perhaps a team) to go to at least one healthcare or senior living design conference. Or perhaps you're a vendor trying to decide which conferences to be an exhibitor.
Attending conferences is a great way to recharge your batteries, learn new things, network with colleagues and clients, and have fun. And of course, speaking at conferences allows you to share your ideas and promote your company or organization.
While many of the speaking proposal deadlines for 2019 have passed, it's never too late to attend or exhibit at a conference.  Here's a monthly breakdown of some you might want to consider:
March
17-20: ASHE International Summit & Exhibition on Healthcare Planning, Design, & Construction, Phoenix, Ariz. This one kicks off the conference circuit for the year and claims to be the only event with an integrated attendance of 3,200 C-level, design, construction, and operations professionals with more than two-thirds returning each year.
April
3-5: Beryl Institute's Patient Experience Conference, Dallas, Tex. Not a design conference, but if you're interested in learning what providers are doing to improve the patient experience, this is the conference for you. Not sure what the attendance is, but my guess is it is between 3,000-4,000 individuals and growing every year.
7-10: Environments for Aging Expo & Conference, Salt Lake City, Ut. This is the industry's only conference dedicated to senior living design.  Attended by more than 500 providers and design professionals, this small conference is not to be missed if you're a senior living designer or a provider looking for new ideas.
June
10-12:  NeoCon, Chicago, Ill.  Held every June at The Merchandise Mart since 1969, this is the commercial design industry's showcase for product innovation. While the bulk of exhibitors focus on corporate office design, every major (and some minor) players in healthcare and senior living design are also there. Attendance figures in the past have topped 50,000 (if you count everyone who comes to town for the show), but it's probably a little smaller than that today.
October
27-31: LeadingAge Annual Meeting & EXPO, San Diego, Calif. LeadingAge's members and partners are made up of more than 6,000 not-for-profit providers representing the entire field of aging services, 38 state partners, hundreds of businesses, consumer groups, foundations, and research partners. Not a design conference, but a great place for senior living designers and product manufacturers to network and learn about trends impacting the industry.
November
2-5. Healthcare Design Expo & Conference, New Orleans, La. Many consider this one to be the premier healthcare design conference in the U.S., maybe the world. Has a similar audience profile as ASHE PDC, but is slightly bigger at more than 4,000 attendees. Co-founded by The Center for Health Design more than a dozen years ago.
Which ones are your favorite conferences?  Why?  Leave a comment in the box below or contact me.
P.S. Please do me a favor -- if you liked this post and like this blog, please share it with others by sending them the link or posting it on your Twitter, LinkedIn, or Facebook. Also, don't forget to subscribe, so you'll get emails when new content is posted. Thanks!