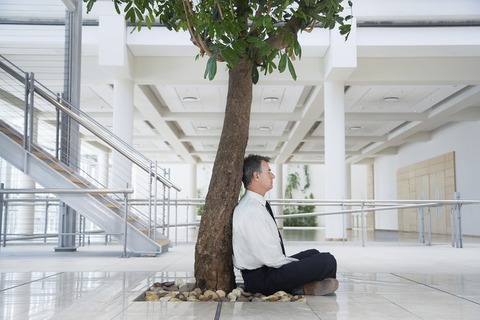 I'm happy to report that the healthy building movement is alive and well in the U.S. and abroad.
At Neocon last week -- the largest commercial furniture exposition outside of Orgatec in Germany -- everyone was talking about healthy workplaces.
Which is relevant to healthcare design since hospitals and clinics are workplaces, too. And if there's any building type that should be healthy, it's a hospital.
Fitwel is Off and Running
Fitwel, a relatively new certification system for optimizing building design and operations to improve health and productivity, is also thriving. Created as a joint initiative led by the U.S. Centers for Disease Control and Prevention and the General Services Administration (GSA), Fitwel has engaged with 600 companies in 20 countries, with 400 projects certified or in progress since its launch in February 2017.
Currently, the focus is on workplace and multi-family residential buildings. The 55+ strategies for improvement in 12 categories were generated by an expert analysis of over 3,000 academic research studies.
What About Healthy Hospitals?
When I asked Reena Agarwal, Founding Chief Operating Officer at the Center for Active Design (which operates the Fitwel program) at her presentation at Neocon if there were any hospitals that had been certified, she said that most of the projects are corporate offices. A primary reason for this is that the GSA buildings served as the beta testers.
With all the research that's available linking the design of hospital environments to outcomes, I would think healthcare would be a natural next step for Fitwel.
Perhaps it could even partner with The Center for Health Design to develop that sector. The Facility Guidelines Institute should also be engaging with Fitwel for the "beyond fundamentals" of its next standards revision.
Not the Only Game in Town
The International WELL Building Institute also has a healthy buildings certification program, which launched in 2014. A total of 898 projects encompassing over 170 million square feet are applying WELL across 34 countries.
And it also has a professional accreditation program for individuals.
WELL is similar to Fitwel, but there are differences.
According to architect Jane Rohde, the high-level difference is that WELL is primarily medically driven, while Fitwel is focused on public health issues. (Read more about the differences in Rohde's post published recently on the Vinyl Institute's blog.)
Where Do Products Fit In?
Agarwal also said that many of the 45,000 products in the Underwriter's Laboratory SPOT database are eligible for Fitwel credits. A quick check on the website indicates that this is also true of the WELL program.
And you may be wondering about where the U.S. Green Building Council's LEED certification program fits into all this.  LEED also promotes healthy buildings, but from a sustainable perspective.
Fitwel and WELL take it a step further to encompass everything in workplace environments that impact health and well-being.
I expect this trend to continue and can't wait to see the first Fitwel Star rated hospital.
P.S. Please do me a favor -- if you liked this post and like this blog, please share it with others by sending them the link or posting it on your Twitter, LinkedIn, or Facebook. Also, don't forget to subscribe, so you'll get emails when new content is posted. Thanks!