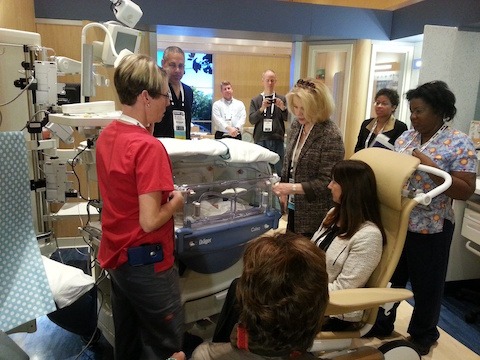 Those of you who managed to find the Patient & Family Centered NICU at the Patient Experience Simulation Lab at last week's Healthcare Design conference in Orlando probably found it worth the $99 to tour.  And if you're wondering why it cost extra, the lab is a fundraiser of sorts to help support the work of the nonprofit Institute for Patient-Centered Design.
If you were expecting to see innovative, futuristic concepts, you were probably disappointed.  Because the goal was to explore the NICU from the perspective of families of NICU patients and provide a "test-bed" for experiential learning.
To get a bunch of different ideas to inspire the NICU room design, the Institute hosted a design competition.  Finalists were Stantec Architecture, Hord Coplan Macht, and McMillan Pazdan Smith Architecture.
Tammy Thompson, the Institute's President and Founder, and her team of volunteers did a great job discussing topics that impact design, such as kanagroo care, breastfeeding, and rooming-in for mothers.  Design solutions for promoting patient-family bonding in the NICU, supporting operations, and addressing infection control and privacy were also presented.
I loved the fact that they tied many of the design concepts to research and engaged participants to help simulate a family's experience with a newborn in an NICU. Having never donned a virtual reality headset, it was also fascinating to navigate a 3D computer model of the room to explore common design flaws before seeing the real deal.
This simulation lab would not be possible without the support of the many vendors and organizations who contributed products and expertise. I wish there was some way for it to live on -- to tour the country or find a permanent home somewhere.
In the meantime, the Institute produced an information-packed "Patient-Centered Design Toolkit" CD that includes an inside look at the Patient & Family Centered NICU, as well as the Patient Empowered Room from last year. (Mac users be warned: the video files are Windows Media.) Or you can visit its website for more information.
P.S.  Please do me a favor -- if you liked this post and like this blog, please share it with others by sending them the link and/or post it on your Twitter, LinkedIn, or Facebook, etc.  Also, don't forget to subscribe, so you'll get emails when new content is posted.  Thanks!