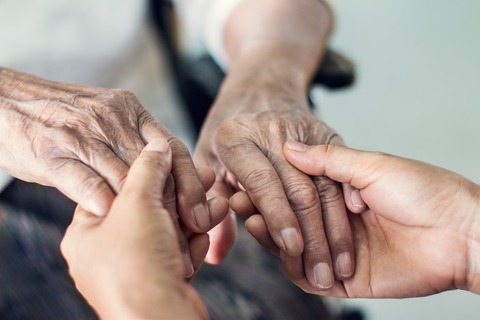 The coronavirus pandemic has raised awareness of the social, economic, and racial inequalities in America. And of all the cracks in our healthcare system.
The good news is that many individuals and companies are stepping up to help those in need.
I'm proud to share that through its Impact program, my client J+J Flooring is donating up to 5,000 sq. ft. of flooring to day center, senior housing or residential care providers for seniors in underserved communities. Environments for Aging magazine is the media partner in this project.
I wish I could say I thought of the idea.
But came from Ross Leonard, V.P. of Marketing/Commercial Division for J+J's parent company Engineered Floors. He thought it would be a great way to give back to seniors and improve the quality of their lives.
Just Launched
We had been working on Impact since last December and planned to announce it at the Environments for Aging conference at the end of April. But the pandemic put the project on hold.
It also made it even more important to not abandon the idea and do it when the timing made more sense.
So we just launched Impact a few weeks ago.
If you're a designer or provider who's already working on a project with a restricted budget, you can use this opportunity to upgrade your design scheme. If you work for a design firm, you can also reach out to an existing day service center, low-income housing, or residential care provider in your community and offer to help give a fresh look to their spaces.
Deadline to apply is September 25, 2020. Find out more>>>
Building Brand Equity
Of course since the pandemic hit, many companies are stepping up to help those in need in their communities in meaningful ways. This demonstration of compassion and caring is also a great way to build brand equity with current clients and prospects.
And when you can use your own product to do good, it packs an even more powerful marketing punch. Here are two more examples:
Club Med is giving away 60 all-inclusive vacations to healthcare workers through its "Healthcare Heroes, You Deserve a Vacation" contest, which closed on July 13. Doesn't this make you have renewed respect for this travel company?
C.A.R.E. Channel producer Healing Healthcare Systems is offering free access to its streaming C.A.R.E. nature video and music programming to anyone in need. And here's an idea I love -- you can also download a free C.A.R.E. Coloring Book of nature images featured on the channel.
How is your company using its products and/or services to do good during these difficult times? Share in the comment box below.
Want to brainstorm ideas? Contact me.
P.S. Please do me a favor -- if you liked this post and like this blog, please share it with others by sending them the link or posting it on your Twitter, LinkedIn, or Facebook. Also, don't forget to subscribe, so you'll get emails when new content is posted. Thanks!